THE MUST-HAVE LIST OF
CHRISTMAS JUMPERS 2021

Halloween is over, so let's face it - it's time to get excited for the festive season! Although some might say November is still too early, at ISAWITFIRST we're well underway with the festivities and you better believe we're already planning our outfits - that definitely includes Christmas jumpers.
We're counting down our absolute fave Christmas jumpers on site RN so you don't have to, so look no further than this blog to guide you on exactly what to wear this festive period.
TRADITIONAL CHRISTMAS JUMPERS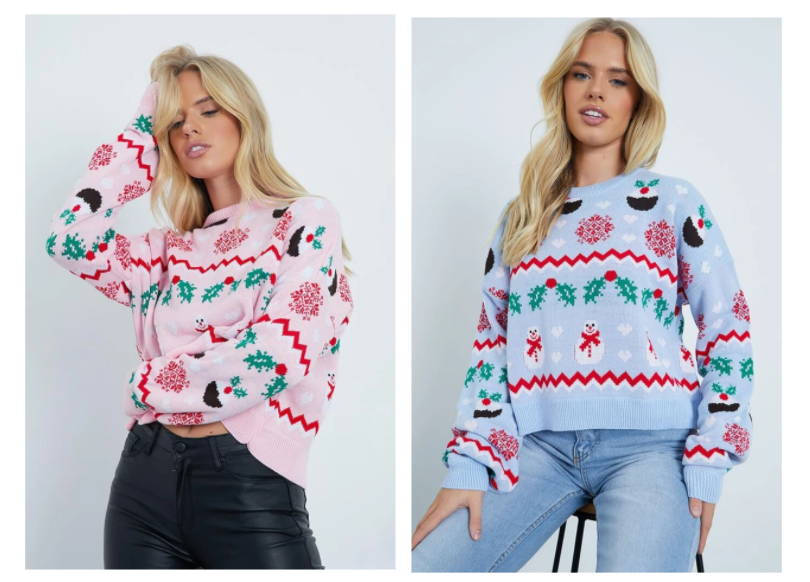 Nothing beats a traditional patterned Christmas jumper. Although some people might think this is too cheesy, we're 100% for it. Whether pink is more your colour or you're a blue kinda gal, we're obsessing over this Christmas pudding jumper!
We'd definitely wear this jumper with some relaxed jeans or if you're more of the grungy kind - some leather look trousers.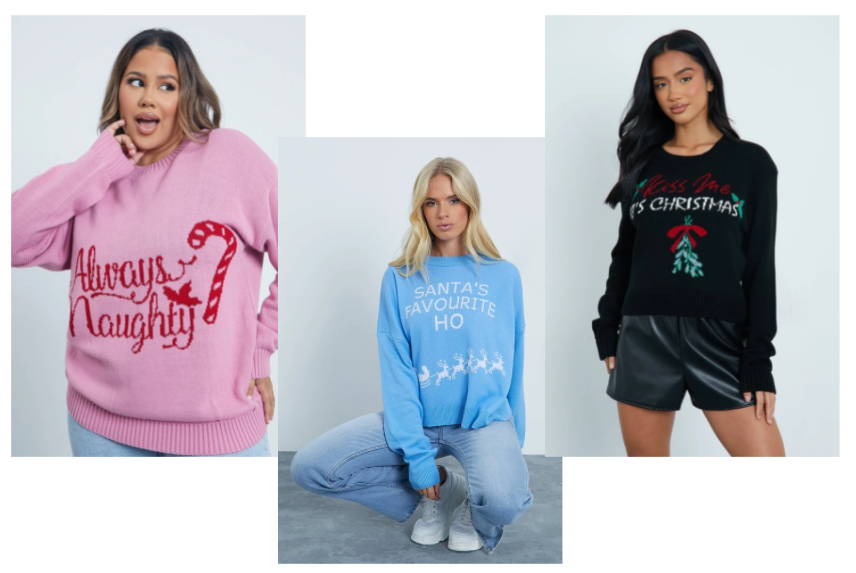 If you're more of a cheeky festive queen, we highly recommend getting any of these jumpers. It's bound to be a conversation starter at the Christmas party, and let's face it - you can pull of ANY of these colours! They're just the right amount of cute & cheeky, right?!
Sleigh with this adorable plus size Christmas jumper for your naughty but nice gals, and for our lil petite elves we've got a kiss-me-quick mistletoe number.


IF COLOUR ISN'T YOUR THING...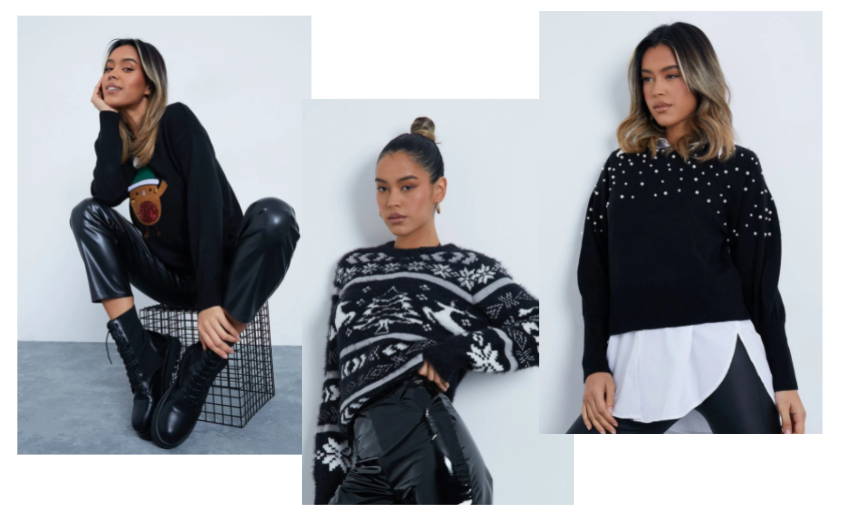 Look, we get it! Even if it's the festive season, for some of us black is still our comfort colour and there's not one holiday that can take that away from us. With that in mind, here are some options for the more monochrome girls out there.
A simple Christmas jumper is understated but definitely wouldn't go amiss on Christmas morning. This traditional pattern works well with any colour, so you're good to go with this one! If you wanna avoid any kind of Christmas pattern, opt for this pearl embellished jumper instead!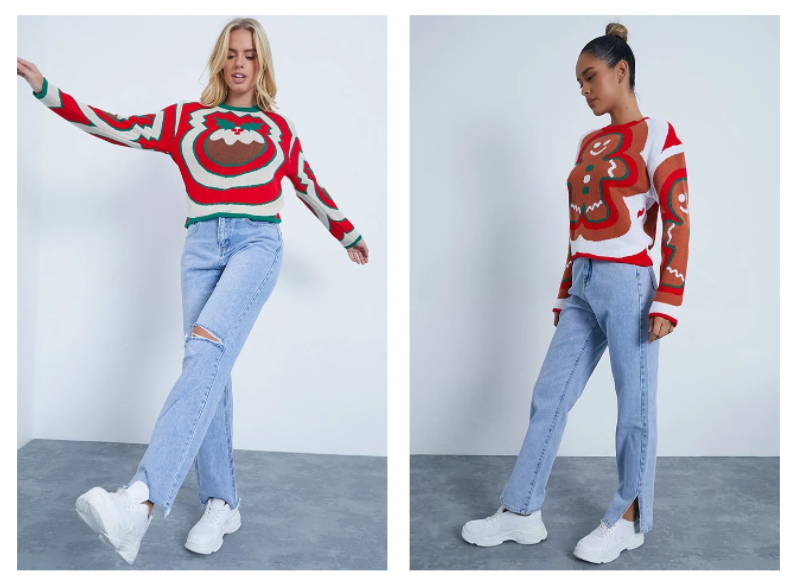 We're loving the retro vibe and these jumpers are no exception. Is this Christmas jumper too cheesy? We literally don't care. It's got all the festive colours you need and some sweet treats nearly as sweet as you!
You better believe we're pairing these with some 90s blue jeans and white trainers and watching all our Christmas film classics with a hot chocolate.
OVERSIZED IS THE WAY FORWARD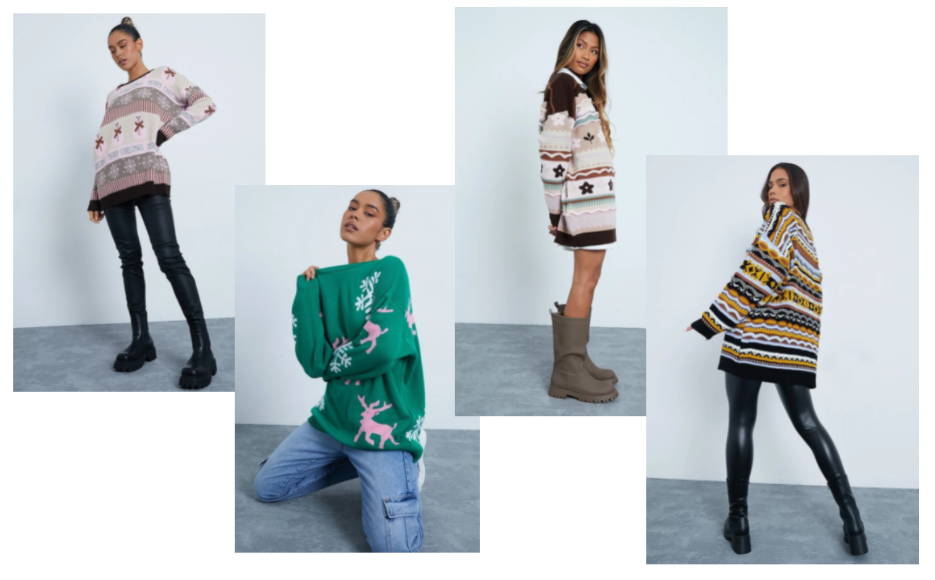 An oversized 'fit will never go amiss, and let's face it - we're gonna need as much give as we can get after Christmas dinner, snacks, dessert & more snacks. That's why we're giving you 4 different options for the perfect oversized Christmas jumpers.
They're all giving us major traditional crimbo vibes but to shake it up, pair with some leather look trousers or some jeans and chunky boots.
This style will also look great at the annual Christmas Eve pub appearance, or a Boxing Day look if you're feeling slightly delicate from the day before's festivities!


We cannot wait for Christmas jumper season & now we've got one for every seasonal occasion. Make sure you check out all our Christmas jumpers right here, PLUS browse through our Christmas Day outfits for any other kinda style you're feeling for the big day! 🎄