HOW TO DRESS RICH : INVENTING ANNA INSPIRED

The new Netflix series "Inventing Anna" which follows notorious scammer Anna Delvey might have one of the most expensive wardrobes ever seen on a tv show. Although Anna Delvey is in fact a real person the series has been dramatised and embellished for viewing pleasure, however how Anna dressed in the series was very accurate.
The fraudster Anna posed as a socialite and German heiress to allow her to run in the right circles and swindle people out of their money. Her outfits played a big part in her scheming as dressing head to toe in designer fashion backed up the illusion of her being extremely wealthy. If you're wanting to achieve the heiress look whilst on a budget and without scamming people out of their money, ISAWITFIRST have got the clothes, shoes and accessories that prove your outfit can look expensive without breaking the bank! Take a look at our style steals inspired by "Inventing Anna".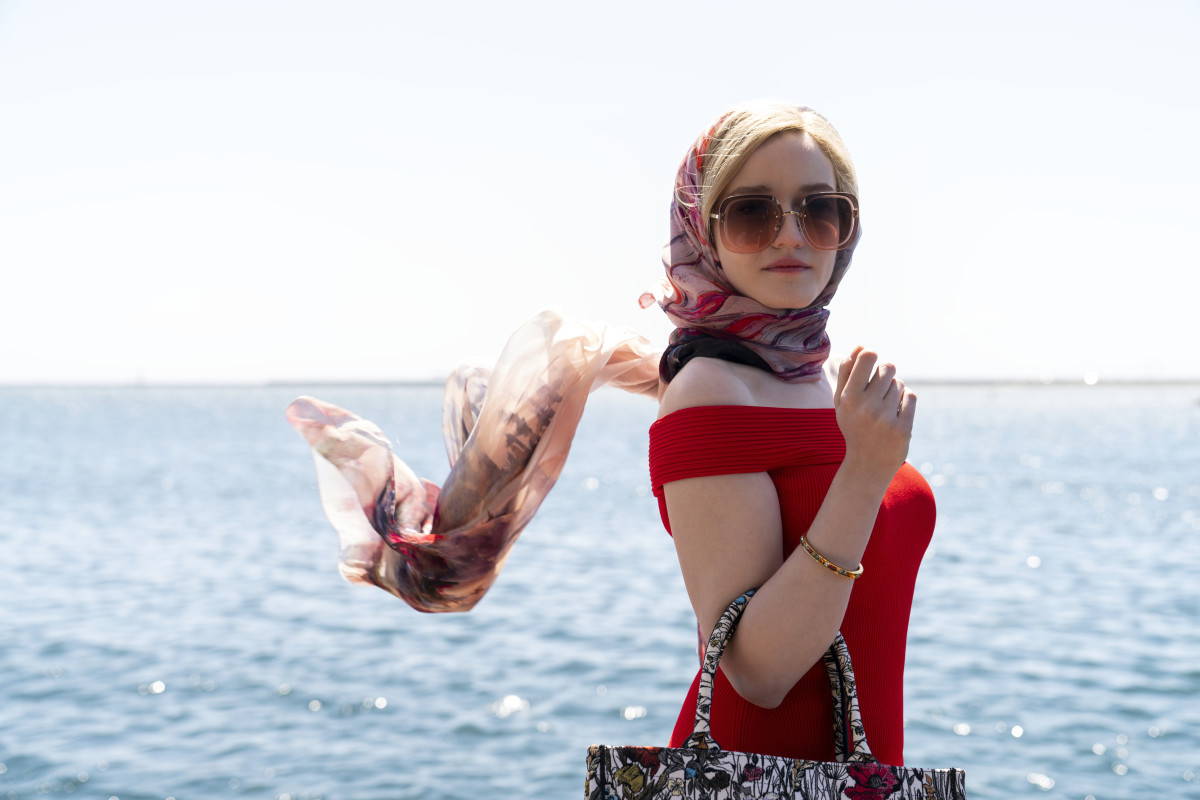 Anything satin looks sophisticated and in a cream or neutral colour the material levels up in luxury, this champagne wrap shift dress is just provides just the right amount of glamour, style with slick back hair and some gold jewellery to complete the look.
Anna perfects the casually rich look in Ibiza, going for headscarves in colours that link to the rest of her outfit, colour co - ordinating your accessories to the rest of your outfit will pull together your look effortlessly. This sage head scarf with a sage shirt dress is perfect boat day outfit, style with some white heeled sandals and white bag.
A go to for Anna Delvey is blazers, most of her outfits include one and a blazer and trousers co - ord provides automatic sophistication. This purple blazer 2 piece set styled with black top and accessories is so easy to wear and achieves that girlboss look.
Whilst walking the streets of New York Anna is always in the most expensive looking coat which catch your eye right away. Go for a coat with a bold print like a check or one with dramatic details like a fur collar and cuffs, with a fabulous coat any simple outfit will be elevated.
When it comes to sunglasses Anna's attitude is definitely the bigger the better, accessorising your outfit with some oversized sunnies is a sure way to add mystery to a look. If you don't fancy paying over £400 for Anna's Celine shades go for ISAWITFIRST's Oversized Cat Eye Sunglasses which are sure to have the same effect and will only set you back £6.
Now you have all the inspo you need to dress as expensive as a German heiress without the cost, check out New In to see what other luxurious looks you can create.
If you love to be inspired by the fashion you see on your fave shows, take a look at our Euphoria Iconic Outfits blog or Emily in Paris Season 2 Outfits blog for even more inspo!!
---
---