HOW TO SPRING CLEAN YOUR WARDROBE

Spring is here and lockdown liftin' is round the corner. There is no better time to sort out your wardrobe than right now. I caught up with some organisers who are best in the biz and will have your wardrobe sorted in no time.
I chatted with Rachel Burditt, Danijela Coha and Katrina Hassan about all things organisation.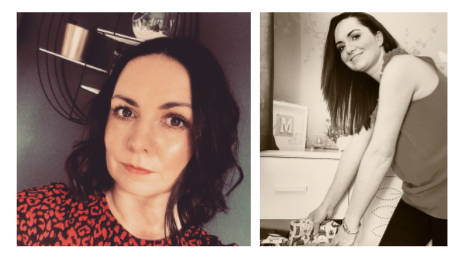 Danijela Coha

Wardrobe Fairy - @wardrobefairy
Worked with the likes of Rita Ora, Julien Macdonald and Melissa Odabash
'To live in a clear space is to live with a clear mind'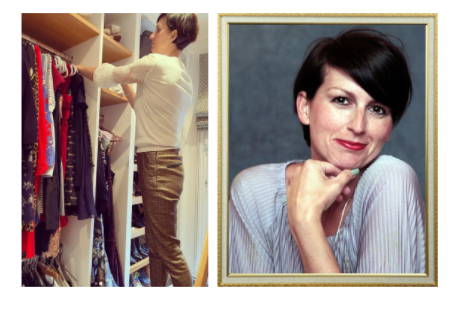 Katrina Hassan

Spark Joy London - @spark_joy_london
Trained with the Marie Kondo
'Time is precious, so with less distraction one is able to focus on what truly matters to them in life.'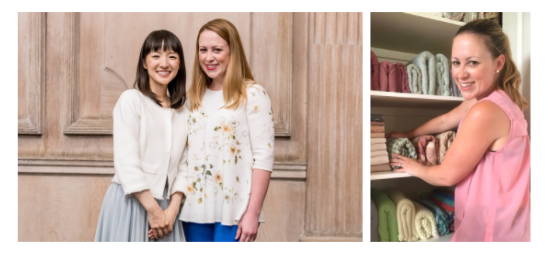 How did you get into organising?

Katrina from Spark of Joy London says:
I discovered the book 'The Life-Changing Magic of Tidying Up' by Marie Kondo when I was pregnant with my first child. I followed the principles of The KonMari Method™ to organise my home when planning a homebirth. It was important to me to feel secure, calm and confident in my home in preparation for the birth of my baby. Two years later, and after successfully delivering two children at home, I completed my training with Marie Kondo to become a certified KonMari™ Consultant.
Rachel Burditt from The Declutter Darling says:
I set up my company almost 6 years ago, after having a successful career in fashion, living in both London and New York.
I have always had a passion for interior design and keeping my own home and wardrobe organised.
After seeing a number of companies in the USA have successful organising businesses, I thought it was the perfect opportunity for me to utilise my passion and expertise and so The Declutter Darling was born!
Dani Coha aka The Wardrobe Fairy says:
My name is Dani and I am the Wardrobe Fairy. I have been 'fairying' around London for about 8 years now. It all started at a little dinner party in West London. A lady called Yemisi who sat next to me was talking about the girl who comes to her house and organises and declutters things. I loved the idea and at that time didn't know people get paid to do this.
My friend who hosted the dinner party and who knows me really well said this is a perfect job for me. Yemisi said she really needs her wardrobe doing so I jumped to the unknown and said ' I can do that ' .
Week after I nervously went to her house and we organised her wardrobe beautifully. Yemisi said I should start a business and I laughed. A few months later Wardrobe Fairy was born and now going strong with a team of my four amazing assistants who I would be lost without!
What are the reasons most people approach you for help?

Katrina:
Many of my clients want to reduce their feelings of being overwhelmed by clutter and want to feel more in control of their possessions, and their lives. Whether you want to make better use of your space, are moving house, helping a loved one, renovating, adjusting following a bereavement or expecting a baby, through a series of hands-on KonMari™ tidying sessions, I can help you transform your home into one that reflects how you want to live now and in the future.
Rachel:
A large percentage of my clients are time poor. We all live extremely busy lives in this day and age and spending time organising your wardrobe doesn't really appeal to many people. This is where I can come in and transform their lives, inputting a system into their day to day lives through organising their homes.
I do have a variety of clients, ranging from footballers wives and influencers that want the Instagramable wardrobe, time poor couples that just can't focus in their homes due to the extent of their clutter, through to busy parents that need that helping hand with their children's rooms and toys.
Dani:
We live in a fast paced world or city shall I say. My clients are extremely busy professionals and very busy mums and dads. They approach me as they simply do not have the time and they very often don't even know where to start when it comes to organising and editing his and her's walk in closets. Moves are the biggest jobs and there is a huge demand for this service when clients are relocating home. They can take up to 5 days or more depending on how big the wardrobes are and if we are doing other areas of the new home as well.
If clients are in the public eye they tend to travel a lot and they will have a lot of clothes / shoes / accessories delivered on daily bases by their stylist. They call me back often as maintenance of the closet is much needed and also very important to keep on top of everything before it turns into a raging mess.
What are the benefits of organising your wardrobe/space?

Katrina:
Tidying increases your productivity. If your environment is tidy, you feel more comfortable so you're more motivated to get started in the morning and you are able to maintain that motivation throughout the day. Furthermore, decluttering and organising leads to improved efficiency, reduced stress and anxiety, enhanced mental wellbeing as well as having a positive impact on your sleep and diet.
Rachel:
I'm very passionate about the idea that decluttering goes hand in hand with mindfulness and being present.
If you have a cluttered bedroom, every morning that's the first thing you will see and the last thing you will see at night. It will be there as a constant in your mind, even if it's at the back there somewhere! Clearing a space will clear your mind and enable you to be mindful and aware of your surroundings, being able to focus on what is important to you and what you enjoy.
It also helps that you once its organised, you will be able to see and know where all your clothes are each morning - one of my clients likened it now to being able to shop her own wardrobe!
Dani:
Most used phrase by all of my clients is ' omg I forgot I had this ' .
If everyone did a wardrobe edit once a year you'll be surprised at what is lurking at the back and you are guaranteed to find something you forgot about and totally love.  
It will save you buying the same leggings or the same gym top or even a summer dress twice.
Also, we are all suffering from 'stuffocation' and as real estate cost continue to rise we have to make the best use of our limited living and storage space.
Do you think lockdown is the perfect time to do this? If so, why?

Katrina:
No matter how busy you are, this time at home is an opportunity for us to acknowledge the distractions in our lives and implement positive habits. One of the ways we can do this is through decluttering. I'm not saying you should KonMari your entire household during this time, but you can take small steps to reorganise a small space in your home and experience the great benefits that come from tidying.
Rachel:
Absolutely.
It is the perfect time! You are at home with the time to be able to dedicate and focus towards this.
It's not about spending days doing this, as this can most certainly be de-motivating for lots of people and you may likely give up and be left with a mess!
Start small and work your way up to larger organising projects.
Set a timer for 30 minutes and see if you can accomplish organising your make up drawer. Seeing what you can do in this time should hopefully motivate you to want to progress to organising a larger area, such as your wardrobe.
Dani:
Lockdown has given people time to reflect on their reality and how they live their day to day lives at home more then ever. I had a few calls from clients wanting to organise their kitchens. I guess all of the sudden kitchens have become centre of their world so they have finally decided to do something about that excess tupperware and overflowing drawers.
Same with all the other aspects of their homes. We are all bored and some of us have been anxious in lockdown so at least clearing the mess around you gives you a clear mind.
What are the basics of getting started?
Katrina:

- Create a vision for your ideal lifestyle and ideal living environment.
- Tidy by category, over location. Instead of decluttering and organising room by room, or cupboard by cupboard, it's important to bring all of the items of one category in one spot to decide what stays and what goes.
- Follow a specific order of categories. I would recommend, in accordance with the philosophy of Marie Kondo, starting with your clothing, before moving on to books, papers, komono (miscellaneous items) and finally sentimental items.
- Set a deadline for your tidying 'event'. Having a time frame in mind of when you'd like to complete your declutter.
Rachel:

Start small and work your way up, first tackling the room or area that you use the most. This will have the strongest impact on you and your family, and will hopefully then give you the motivation to progress to other rooms within your home
- Make sure you have the right amount of time to tackle an area and be realistic, you don't want to start a project in your bedroom, for example, and not be able to finish it for days because the clutter will be there constantly.
- Do not buy storage for any space until you have decluttered it. You don't want to be in the mindset of thinking you have to fill the storage you've just bought! Wait until the space is cleared and you know exactly what you want to keep before you purchase storage. That way you'll have the right storage solution for your items and won't be tempted to fill it up!
Dani:

If you are going to do editing and organising by yourself it's very important to do one area at the time. Otherwise you'll be overwhelmed and you'll end up throwing everything back in the closet as you will more then likely loose patience or run out of time.
Ask yourself questions:
Do I love it?
When did I last time wear it?
Is it worth fixing?
Categorise stuff by season.
Order some dividers for your drawers and if your hangers are a miss match of wire and plastic I recommend you treat yourself with very affordable space saving velvet hangers from Amazon.
Muji dividers are also very good but now we are in lockdown it's hard to buy.
Seems pretty straightforward right? Now is the time to get decluttering and making way for your brand new SPRING WARDROBE!
For more information on our three experts head to their websites below:
https://thedeclutterdarling.com/
http://www.wardrobefairy.co.uk/
---
---