Your Guide on How to Style Denim Jackets this spring

Lockdown is lifting and we're loving it but we're having a dilemma. I have now become my Mum because everywhere I go I have to take a coat. Gone are the days of going out without a coat on and let's face it, it's hardly summer is it? What's more with only outdoor areas opening you don't want to freeze while sipping on your pornstar martini. The solution? The humble denim jacket. It goes with basically everything in your wardrobe and adds a certain cool-girl edge to every outfit. You can layer under it, you can layer over it - it's basically the only spring jacket you need rn. We've rounded up our fave styles and given you some styling tips too...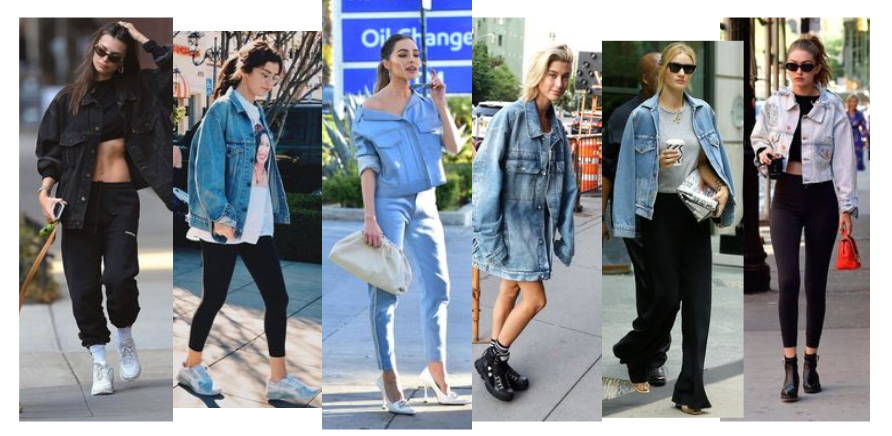 Style Guide: Blue Denim Jackets
Let's start with the basics - the humble blue denim jacket. This is every fashion-girl's must-have spring jacket. The classic blue goes with everything (literally everything) and is a great way to inject a pop of colour into your wardrobe if you tend to stick to blacks and neutrals. Style over a graphic t-shirt and some leggings for a chilled beer garden outfit or take a leaf out of Hailey Bieber's book and style with bare legs, chunky boots and some cycling shorts. I'm a huge fan of double denim and love how Olivia Culpo has styled hers with heels and a cute bag for a glam date night look.
Here are some cute outfit suggestions on how to style a classic blue denim jacket...
Style Guide: Black Denim Jackets

Looking to add a little more edge? A black denim jacket is the perfect last layer for waiting until last orders! It's super easy to take from day to night and again just goes with literally everything you already own so it's a bit of a no-brainer. Style it with black jeans, faux leather trousers or over your fave spring dress for an edgier lewk. I like to style mine with chunky leather boots and big sunnies.
Style Guide: Cropped Denim Jackets

Instead of going for an oversized silhouette why not opt for a crop? They're a little bit sassier and super flattering too. They enhance your waist and are a perfect option for summer. Ideal with a cute summer dress or style with your fave high waisted Mom jeans for a head-to-toe denim vibe.
Style Guide: Beige Denim Jackets

Give your final layer a more luxe look with a beige denim jacket. Match up with your other neutrals to keep the palette simple or layer over a summery dress with a bold print. I love this slightly cropped one as I think you can really dress it up or simply wear it to a family picnic!
Denim Looks You've Got to Try...
---
---