We're introducing you to our incredible females who work at I SAW IT FIRST HQ every day this week as part of International Women's Week. If you want to get to know the women behind the brand, come back every day this week or keep up to date with our Instagram Stories!
Meet Alex, our Videographer, here at I SAW IT FIRST HQ. We sit down with Alex to chat all things video and she tells us what she just can't live without...
ROLE AT I SAW IT FIRST: Videographer and Editor
FAVE THING ABOUT WORKING HERE: The amazing team!
TAG A FEMALE WHO INSPIRES YOU: @josefinehj - Style inspo everyday!
WHAT MAKES YOU FEEL CONFIDENT: Boot heels and a red lip.
QUOTE TO LIVE BY: Great things never come from comfort zones.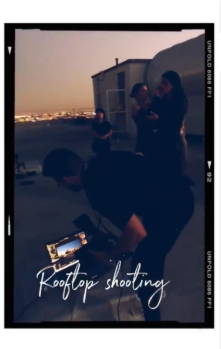 What does a typical day in the life look like?
There is no typical day at I SAW IT FIRST! Every day is crazy and wonderfully different from another. Working in fast fashion is exactly what it says on the tin – FAST, but so exciting! The team at I SAW IT FIRST are so lovely and passionate about the brand that no matter what's going on or where we are, there's always good vibes! Whether I'm shooting in the studio or on location - it's an amazing feeling being a part of something so creative. So in a nutshell a typical day is fun, fabulous and full of content!
What advice would you give to someone wanting to get into videography?
Stay creative and enthusiastic. Be prepared to put the hours in and always be willing to go the extra mile!
What has been your favourite campaign to film?
I've been involved in some amazing shoots since starting at I saw it first. From London to LA to Ibiza (and many more), it's hard to pick a favourite. I'd definitely say last year's LA campaign has a special place in my heart though. It was a dream shooting our original babe Cindy Kimberly in the stunning party wear product and watching the campaign come together!
Something you can't live without?
My camera and my cat.
Favourite trend/items on the website at the moment?
I love the utility trend we've just launched! I've just added the following items to my wardrobe:
https://www.isawitfirst.com/products/side-pocket-satin-cargo-trousers-black-jl33594
https://www.isawitfirst.com/collections/utility/products/panel-detail-bodysuit-nude-jl36764
https://www.isawitfirst.com/collections/utility/products/platform-military-lace-up-boots-black-jl36953