Invest In Your Workspace
As working from home becomes the new norm again now we're back in a national lockdown, it's about time we truly invested in our work environment.
For any person working from home, it's incredibly important to establish a work space / office area that's away from your other living areas (i.e. don't work sat up in bed!) Get yourself a comforting, organised space to work that'll make you want to sit there all day - well, at least until 5pm.
Dedicated workspaces can reduce distractions, increase productivity and make for a better wind down after the working day is over. When you've logged off, you can move away and relax in your other fave places for a serious Netflix marathon. So we're giving you our best desk-friendly additions that'll make you feel as calm as you can while working from home during this stressful period.
Look, I know this might not seem as fun as the real getting lit, but we guarantee lighting candles really changes the game - especially when you're amongst the stresses of working from home.
Lighting candles creates a peaceful ambiance, so having one on your desk while you work can be a perfect way to remain calm while getting through your tasks. Burning a candle of your favourite scent is a win-win scenario - you're relaxed AND you've got hints of smell you absolutely love.
Burning a candle can also promote a healthy lifestyle of self-care and wellbeing. Have a peak at our other candles here for some more variety. We've got tons of body candles that are so on trend ATM, or some luxurious Naomi Joy Living ones that are easy on the eye and the nose. After hearing all the insane benefits, why would you not wanna get some for your desk!?


Harness The Energy With Crystals
Need we say more? At ISAW, we consider ourselves crystal obsessed. With the energy of our homes now shifted due to working, it's imperative we practise introducing good energy into every room. This starting the day crystal goes hand in hand with a good morning filled with positivity! Put this on your desk in a prominent space where you'll see it constantly.
Similarly with our accomplishment and awareness crystals, you'll be guaranteed to feel better about setting out your tasks and getting through them. Remember, before introducing crystals into your home it definitely helps to burn some sage beforehand. This will purify your living space and remove any negative energy!
It's always better to write stuff down. The best thing to do in the morning is write a complete list of all the tasks you need to do today, preferably in chronological order. Do a page for each day and get yourself super organised so you're not feeling cluttered and stressed.
A notebook by your computer is the perfect companion. Left open on today's date, you can refer back to it easily, scribble any notes from a zoom meeting or doodle on your lunch break. Either way, you've got all the info you need right in front of you. Take these cute notebooks and pair with your fave pen (we recommend a super fluffy pink one!)
Manifest & Motivate Through Prints
It comes as no shock that reading motivational quotes really does help us. These A4 prints are perfect for sticking around your workspace area. If you've got a corner desk, stagger some on either side so you've got a dedicated area for some serious motivation.
When you need a break from the computer screen, it's definitely better to sit back, look up and read some quotes to get you on your way when you're feeling down or unmotivated. Radiate positive vibes is everything we need, especially when Monday morning hits and we just want to turn over and go back to the weekend.
The best is yet to come truly means you've got so much to look forward, so hang in there!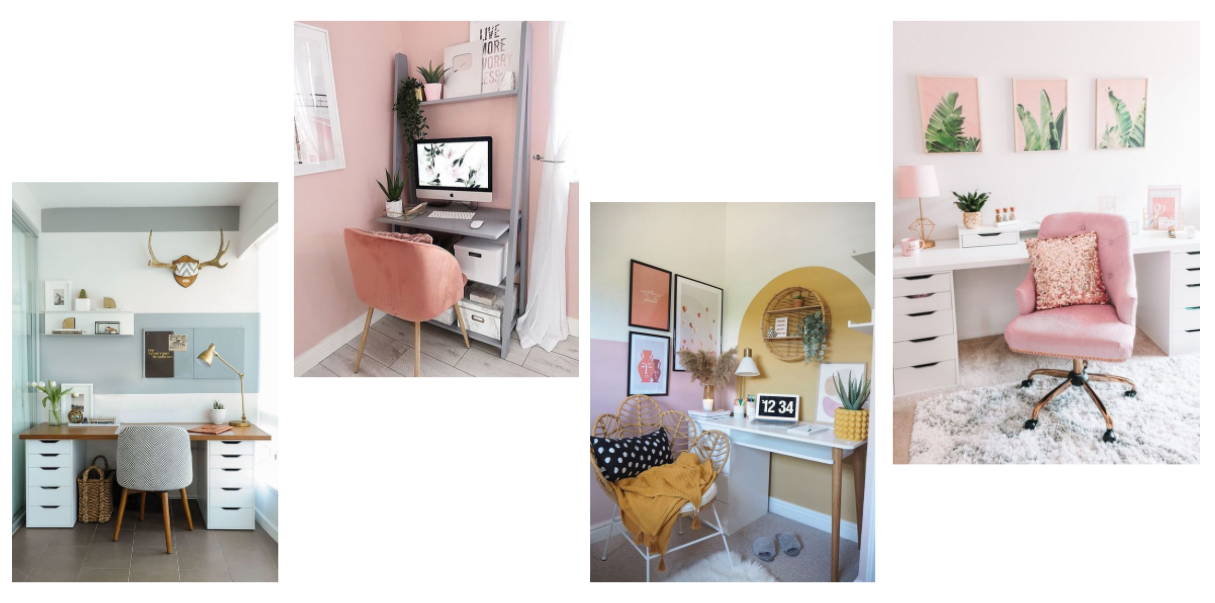 Rest assured you'll feel a lot better and more productive knowing your workspace at home is a calm and positive environment. Remember to stay organised, take regular breaks, drink plenty of water and know this is all temporary!
To shop our complete home collection, click here!
---
---