To celebrate June being a month dedicated to the LGBTQ community we've decided to round up the top Gay icons and allies of the moment for all your PRIDE style inspiration, whether it be shouting it loud and proud or celebrating love being love, these ladies have got you covered.
Cara Delevingne And Ashley Benson
These blonde bombshells are the most unlikely couple but we love to see their PDA'S whether they're at Paris Fashion Week or moving in together in Los Angeles (we loved their most recent one at the airport in matching leather jackets) Between the pair they've got some serious eyebrow game. Their ability to make grunge look glam is second to none – how they wear so much leather in LA heat we'll never know, luckily for you the British summer time most definitely won't be too hot to rock our Black Zip Front Faux Leather leggings pair with oversized tee and sunglasses for the look.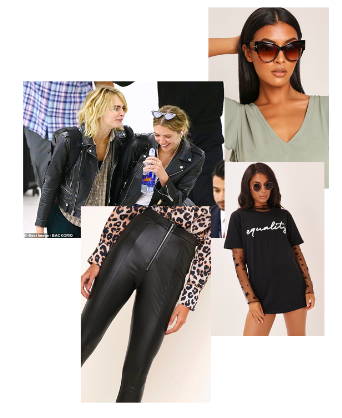 Mariah Carey
It's common knowledge by now that Mariah and the LGBT community belong together. Not only is she adored for her effortless sass and glamour (especially when denying other celebrities' existence) her songs have become anthems and in 2016 she accepted the Ally award at the GLAAD Media awards and summed up LGBTQ perfectly "L: legendary. G: gorgeous. B: beautiful — all of you beautiful people! T: tantalizing, and even Q for quality!" *accompanied by finger clicks and hair flipping* Get Mariah's look here.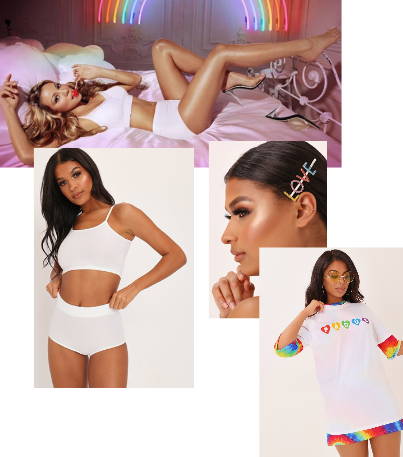 Britney Spears
Britney headlined at Brighton Pride (the largest LGBTQ celebration in the U.K.) last year performing to a crowd of 57,000 fans and it was truly iconic. Wrapped in a rainbow flag she made the dreams of her super fans come true. She described each audience member as 'perfectly beautiful'. She took the stage in a diamante studded bralet and a year later we are still begging her to 'Gimme more'. Luckily you can find similar right here…
Black Diamante And Pearl Bra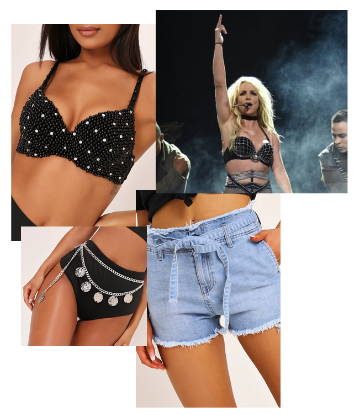 Kylie Minogue
We knew this day was coming since she released the equality anthem 'All the Lovers' in 2010. That's right, Kylie Minogue is headlining Pride in the Park, Brighton this year. Between her fabulous outfits and absolute tunes she has become a legend in the eyes of the gay community. Here's a Kylie inspired look you won't be able to get out of your head… We'll just wait until next year for her Little White Riding Hood outfit to come back in style…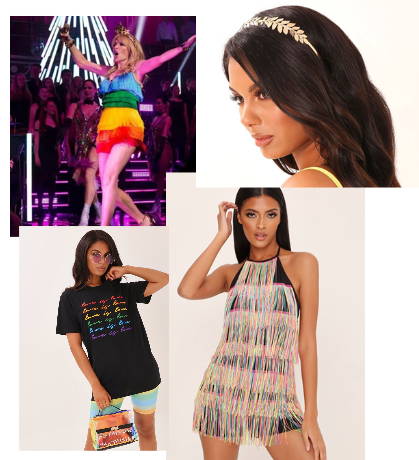 Dua Lipa
Dua Lipa has taught us whether it be to an ex-boyfriend or simply a hater DON'T pick up the phone. Over the past few years she's provided us with some absolute bops and important life lessons. Not only is she a style queen who loves to pair a crop top and a flare, but she is seen frequently waving the Pride flag around when she performs 'IDGAF' at her gigs. With her song 'New Rules' making it onto the Billboard's 2017 list of 'Best Gay Anthems' we thought it only right to include her in this post…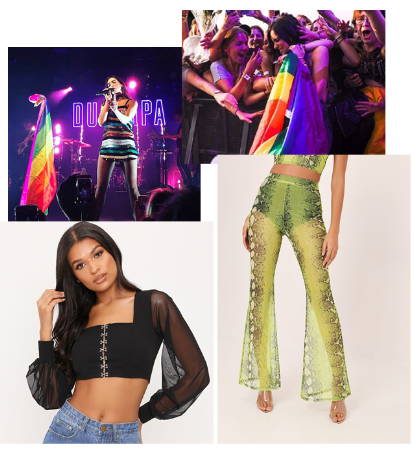 Lady Gaga
Lady G's main goal throughout her career has been to 'inject gay culture into the mainstream media'. Fortunately for us it's been through some seriously catchy tunes - just listen to Born This Way. Just this year we saw her serenade our man crush Bradley Cooper dressed in drag in a Star is Born. She donates frequently to LGBT homeless youth and spreads the message of equality in everything she does. Just take her Met Gala 2019 look for example where she completely embraced Camp. Take inspiration this summer from her Grammy's look and play a love game with silver sequins.

For more Pride month outfits shop our 'Pride Parade' trend here ! And remember Love is Love all year round. X