Crop over carnival is Barbados' most colourful carnival although when it first started the parade was celebrated in the streets with a parade of people in casual white tee-shirt and jeans.The festival celebrates what would've been the end of the sugar cane harvest during the slave trade now it's a celebration of freedom and colour. For those that live on the island the festival is 2 months of non stop partying and celebration. The grand finale comes on the 1st Monday of august also known as Kadooment day, which is also when Rihanna comes to town to celebrate her heritage in some seriously extravagant outfits. Here's a brief history of our fave Badgal RiRi carnival looks and what they mean to us.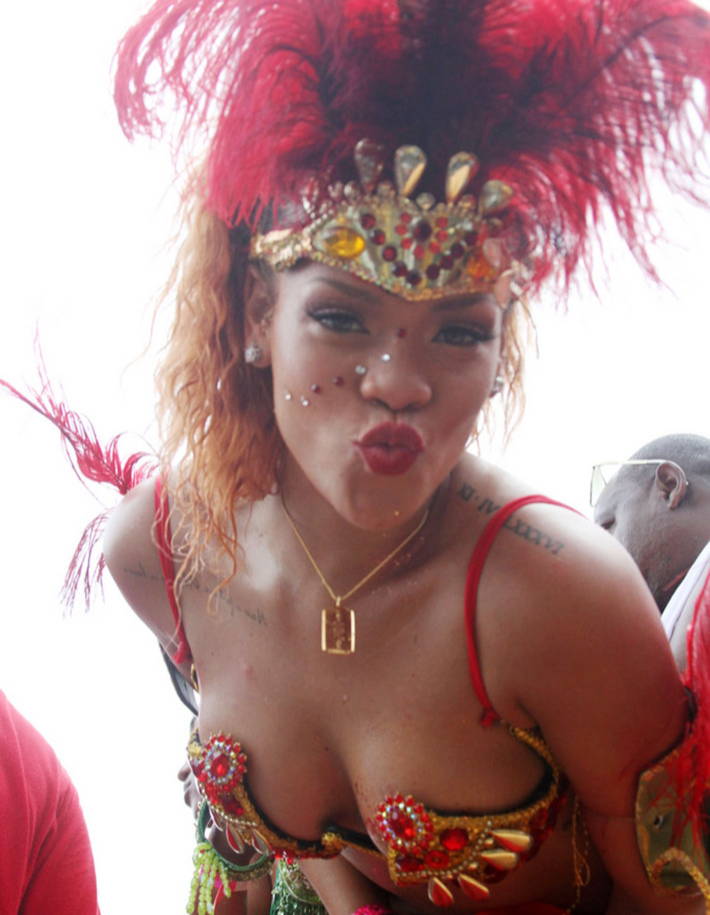 In 2011 Rihanna returned crop over festival for the first time as a public figure and quite frankly we were living for her devilish little red number. If there's anything that sums up 2011 perfectly it's a bright red lip. RiRi is literally embodying the glitzy little devil on our shoulder every Friday night convincing us we need that 7th cocktail. We don't know where we'd be without her (actually we probably wouldn't be as hungover.)
Lesson: Listen to that devil on your shoulder:Treat yourself and indulge every now and then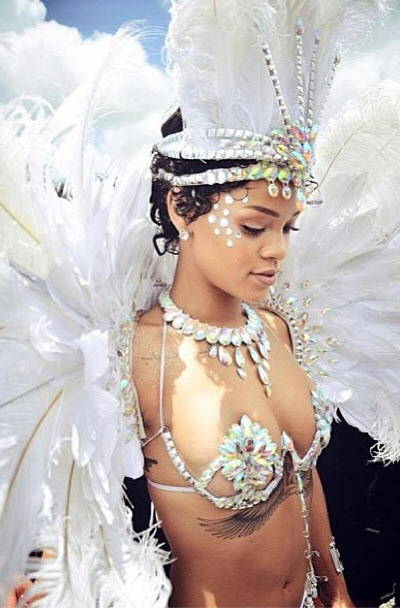 A very angelic Rihanna wore all white everything to the carnival in 2013, this was around the time her unapologetic album got released and we definitely found love in this carefree look, from the glasses to the iridescent gems this outfit looks as though it would fit straight in with the trends of today.
If there's one lesson we can learn from this it's to stop worrying about stains, rock the all white look and have a good night - it's also the best colour to bring out your summer glow.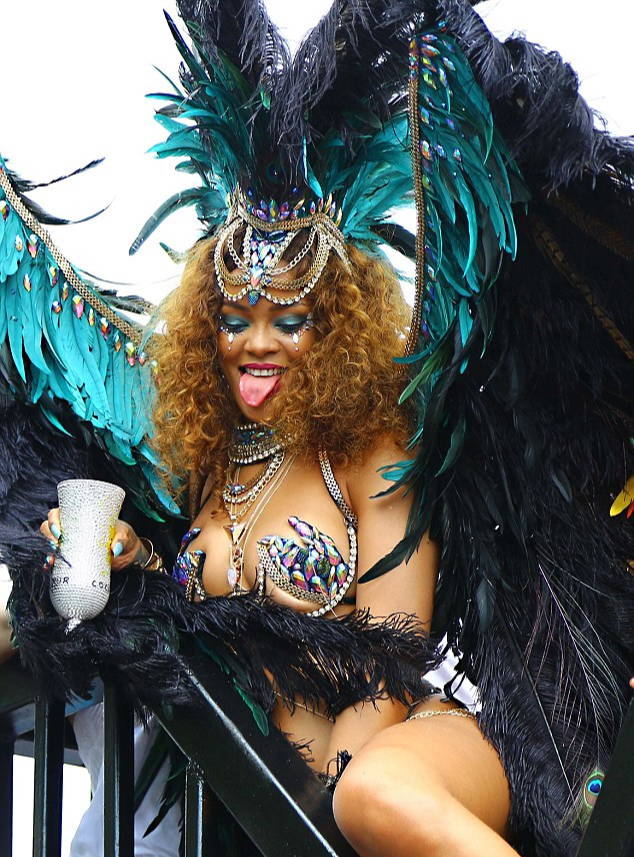 And they said 'black and blue never do'. Here is actual proof of Rihanna defying every fashion rule we thought we could never break. First of all, who knew blue eye shadow could look so good? Also we will all be trying to pair black and navy together now forever knowing full well we will never look as sensational as Rihanna's 2015 carnival look.
Lesson: Dare to clash, in life or in clothes if you don't try it, you'll never know.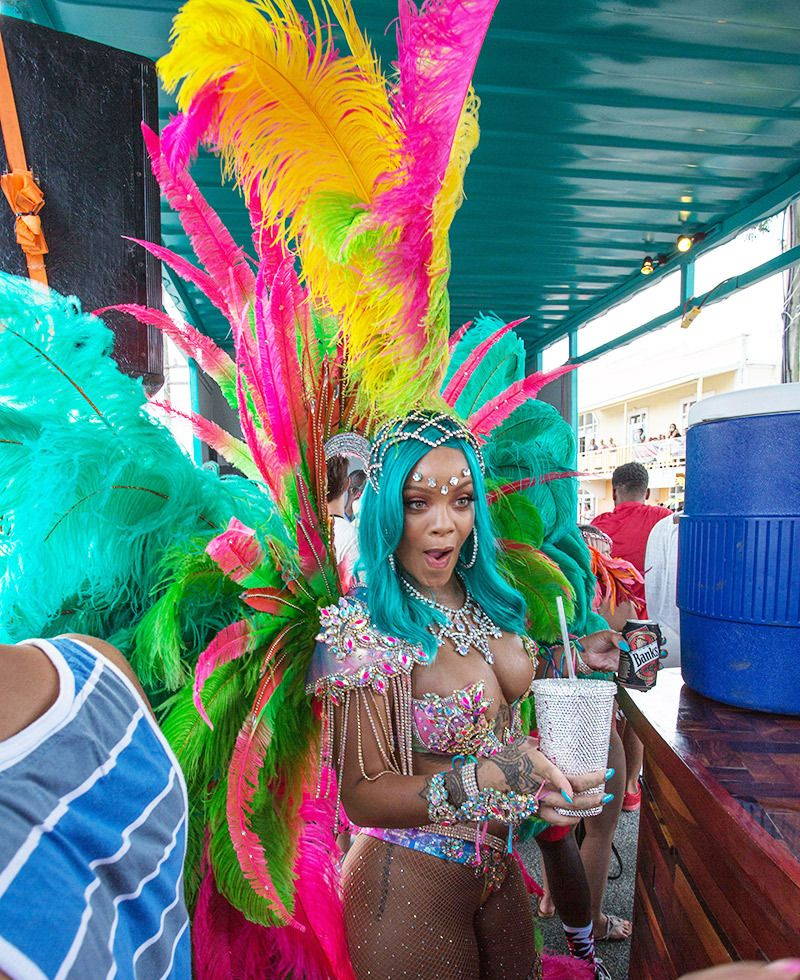 First things first… if you didn't have this LOOK saved to your camera roll in 2017 did you even do 2017? It's no wonder everyone was so obsessed with this diamond encrusted bralet when it was paired with multi-coloured feathers and iconic blue hair.
Designed by local Bajan artist Lauren Austin who was inspired by the glitter feast which Crop Over festival has become. Her brief was 'free, exhilarating and radiant'. Which sums up our hot girl summer mantra tbh.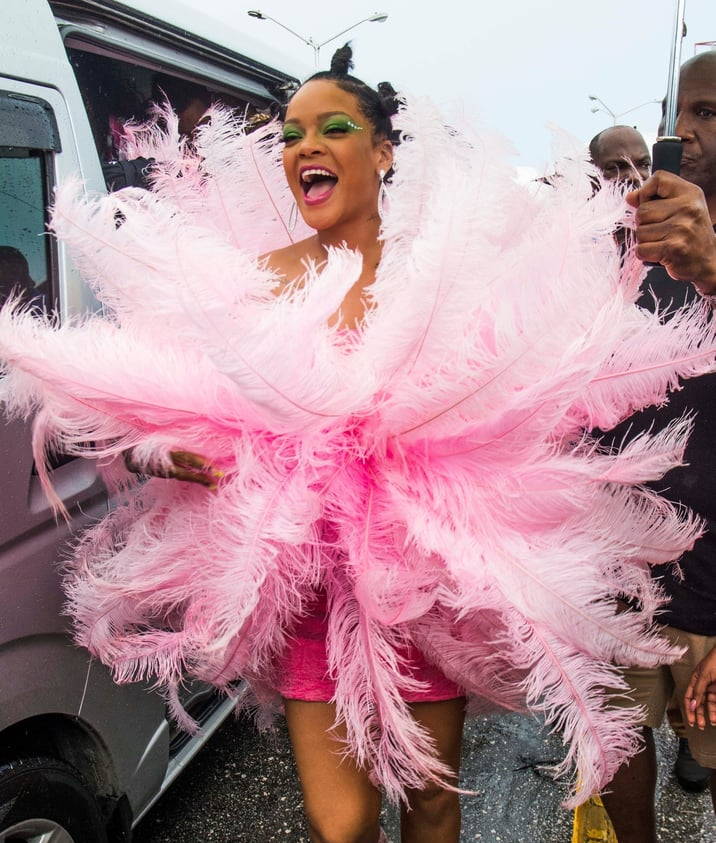 The cutest look by far is Badgal RiRi's 2019 fulfilled all our pastel dreams, we all know there is no colour Rihanna can't look insane in but this feathery pink look coupled with diamante kitten heels and a fresh green eye left Rihanna looking more radiant than ever. So radiant infant we may even forgive her for not releasing new music in FOREVER.
Lesson learnt here: Summer 19 has no boundaries, if its pastel it'll work so wear the rainbow whilst you can. Cute girl summer forever.
We hope you got some serious summer inspo from Rihanna's carnval vibes, keep an eye out for our Notting Hill Carnival blog posts for your carnival outfit cheat sheets.