OUR #STOPTHESPIKE CAMPAIGN: EVERYTHING YOU NEED TO KNOW

When the tragic news of Sarah Everard, Sabina Ness and Aisling Murphy broke, there were many discussions at work (filled with rage) about the many things we have done to stay safe. Texted a friend or our Mum when we got home safe. Shared our location in an Uber. Didn't run after work in winter. Didn't wear certain things to certain places. Asked a friend to look after our drink. The list goes on. After these conversations we decided that this year for International Women's Day and beyond we wanted to use our platform to help raise awareness of a sadly growing epidemic in the UK. All of us had a story about spiking so #stopthespike was born…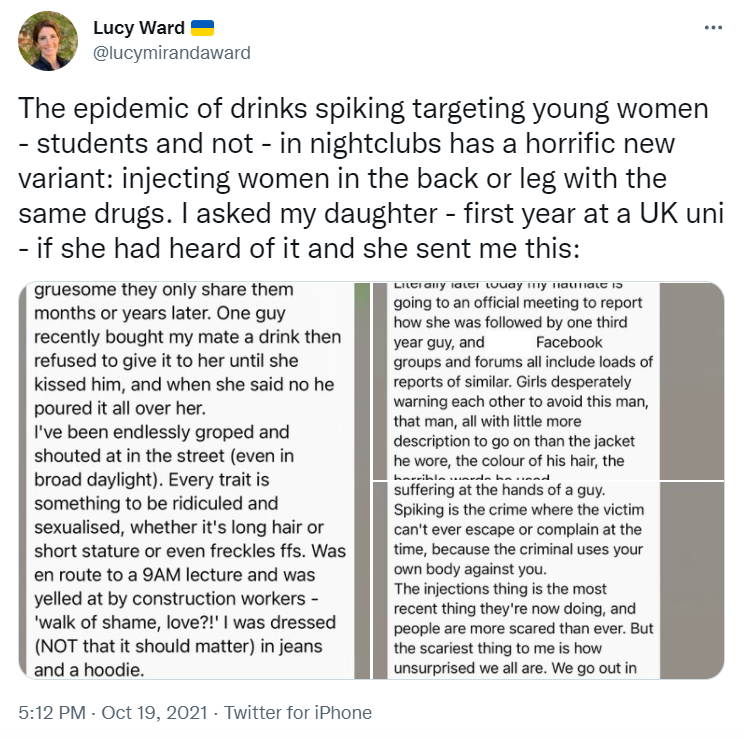 Journalist and writer Lucy Ward tweeted this message exchange with her daughter back in October 2021 went viral
According to a YouGov survey taken in November 2021:
1 in 9 women say they have been a victim of spiking
In total a third of women have either been spiked themselves or know someone who has
6% of men have been spiked
4 in 10 women said they do not think police officers would take them seriously if they reported being spiked
And according to a national survey carried out by Stamp Out Spiking a whopping 97% of spiking cases aren't even reported.
Ok, so what are women doing about it?

Sadly, the narrative surrounding spiking has always put the onus on women. The narrative has always been 'how to not get spiked' rather than tackling the behaviour of the perpetrators. So, what are women doing to protect themselves?
Let's talk women's safety products

There are quite a few women's safety products on the market at the moment. Brands like NightCap are selling cup covers that can also be worn as scrunchies and the amazing team at non-profit Stamp Out Spiking have created StopTopps anti-spiking drink covers.
On top of cup covers there are various other safety products out there for women. From personal safety alarms to safety apps such as bSafe and non-profits like Homesafe and Strut Safe there are products available. The Ask for Angela safety initiative rolled out by the police was aimed to keep people safe in venues. People who feel unsafe are able to discreetly ask for help from staff by asking for Angela. Simple but effective!
The Girls Night In Movement


Back in October last year women across the UK decided to boycott nightclubs bars to highlight the issue of spiking. The movement grew to over 50 locations including London, Edinburgh, Bath, Liverpool and Manchester.
Our campaign #stopthespike has a simple aim: to highlight the issue of spiking, raise awareness of this frightening epidemic and use our platform to keep this conversation going. But how are we doing this?
We've teamed up with the incredible brand Check Your Drink to give away free testing kits in parcels for orders placed on International Women's Day (limited number available so only until stocks last).
We chatted to Katie CEO of CYD who said: "Many bars, nightclubs and student bodies have been looking for effective ways to protect their customers and members against the recent wave of drink spiking and have chosen to stock CYD drug tests in their quest to fight back. Check Your Drink is excited to be working with and supporting ISAWITFIRST customers to help keep more people safe when they are out and about drinking. We do not tolerate drink spiking."  

We are going to be flooding our socials with information in a bid to spread the word and raise awareness to what is sadly a fairly common problem. Help us by sharing posts, having conversations with your friends, brothers and boyfriends. We need to keep the conversation going in order to implement real change. Help us to spread the word and #stopthespike.
---
---