"Babe, you are the master of your own destiny, it's in your hands. Take the steps to the life that you want because the only person standing in your way is you."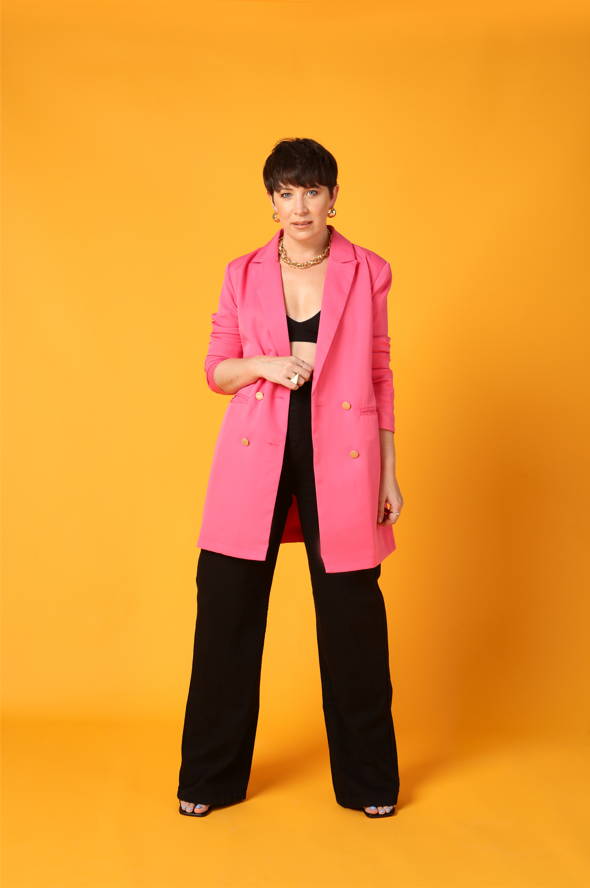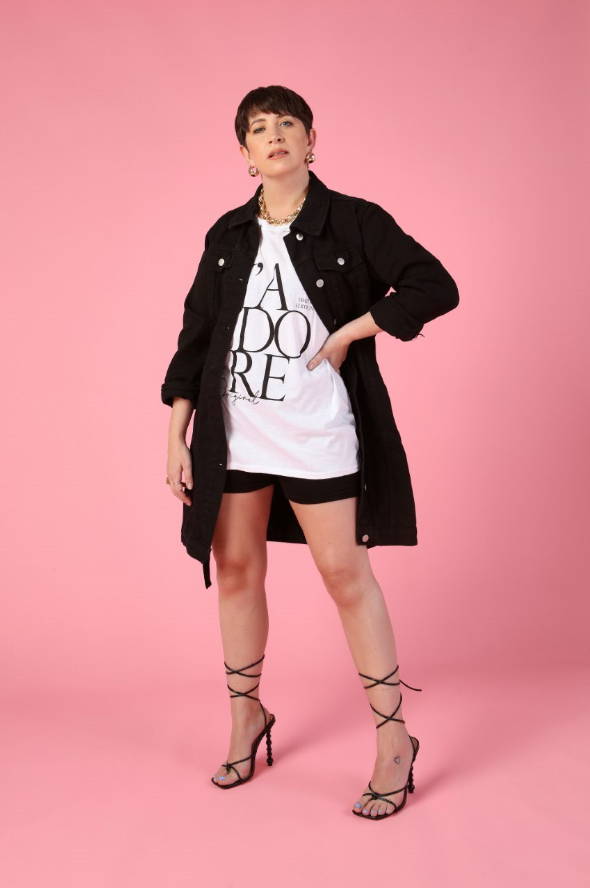 Lauren Mahon is a campaigner, influencer, podcast host and business owner who was diagnosed with breast cancer when she was only 31 years old. Lauren has been cancer-free for 4 years now and is a huge advocate for there being a lot of hope with a cancer diagnosis. We caught up with her as part of our Stand Up To Cancer campaign and she shared her story...
How you doing?
I've recently celebrated 4 years cancer-free!
How would you describe yourself in three words?
Sweary, energetic and kind.
What is your biggest dream?
My biggest dream? Other than Paul Mescal marrying me?! Ermmm probably for everyone to just be happy. Whatever shape that takes. I'd love to be able to take away pain, sick health and money troubles and war. I know that's a big old dream but I am gunna dream it. I'm putting it out to the universe.
Who is your number 1 female icon?
My number 1 female icon is my mother. Tina Mahon! She has taught me everything I know and I definitely get my resilience from my mum. I also get my say it how it is nature from my mum but my mum is also so compassionate and has a lot of time for me, my siblings and for everyone really. She takes good care of everyone despite what she's going through herself. Outside of my mum? Kathy Burke!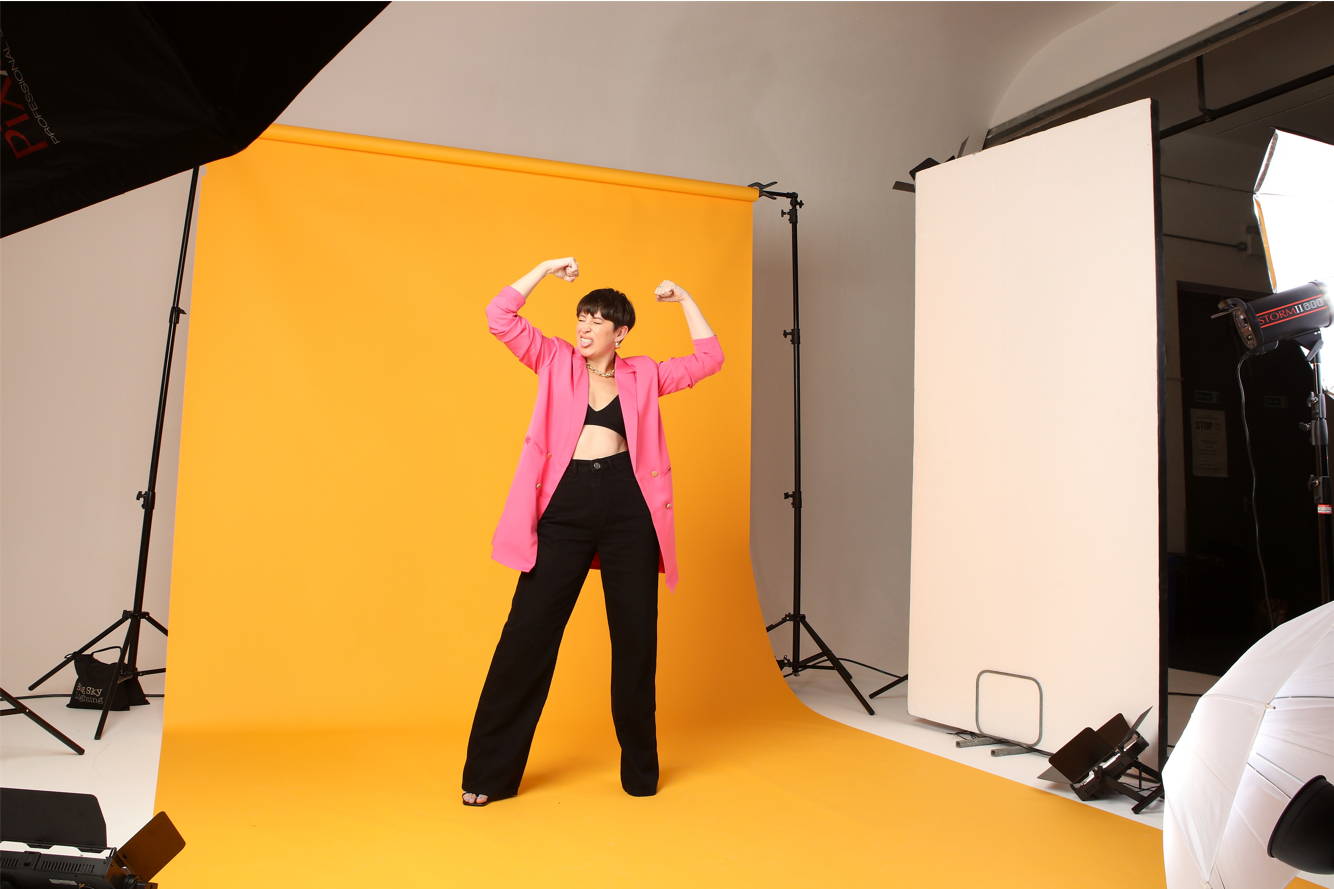 Can you tell us a little bit about your diagnosis?
I was diagnosed with breast cancer at the age of 31. No family history, absolutely no reason why it should be me. I never thought I'd have to worry about breast cancer. It came along in the prime of my early adulthood. I'd just got my first job in a managerial role, career was kicking off, I'd moved in with my friends in East London having a whale of a time, dating, going to festivals - living my best 31 year old life. And then I felt a lump and it was completely by accident. I wasn't checking my breasts. Luckily I did find it by accident - someone out there was looking over me. It took me about 3 months to get diagnosed. The message was we're not worried, you're young and you have no family history - it's highly unlikely that it's going to be breast cancer but it was. Diagnosed at 31 with a grade 2 tumor, it was 2.8cm and went on to have 8 rounds of chemotherapy, 25 rounds of radiotherapy and a lumpectomy. Currently 4 years cancer-free and I'm praying for a lifetime more!
You described your diagnosis as like having your heart broken. Can you expand a little bit on that?
Finding out you have cancer is like having your heart broken. It's a bereavement. In an instant this whole life you had ahead of you is now a question mark, it's an uncertainty. You're heartbroken because everything has changed for you, you know life will never be the same and you almost have to grieve a life pre cancer. I'm sat here forever changed by that experience in some ways for the good and in some ways not. Having a cancer diagnosis is having your heart broken and not just for you but for everyone around you. It's not something you'd want to put anyone through.
Why did you decide to start Girl vs Cancer? What did you feel was missing from the information and support that was out there already? Obviously you were quite young when you got diagnosed did that play a role?
I decided to talk about my cancer experience because I was struggling to find women like me. There is so much information out there now and 5 years down the line it's a way different world than when I got diagnosed. There was the odd young woman but it was young, white, cis, heterosexual women they weren't sweary, red lipstick going down the pub with mates. It was all very forlorn, bald, tanned tights on ugly sofas leaflets handed to me and asking me how I wanted to tell my children when I was single and hadn't even thought about kids. Nothing really spoke to me. I just decided and it was really organic really as I'd always worked online that I would talk about my experience on Instagram. I don't know how #girlvscancer was not taken but it wasn't! I just started to share everything using this hashtag and as a result other women like me found me and we created this massive movement and community that I never dreamed of. I had hoped I could help future Laurens who got diagnosed but I never imagined it would be so many. Girl vs Cancer came of a need to shift the perception of what cancer looks like, feels like and who gets it!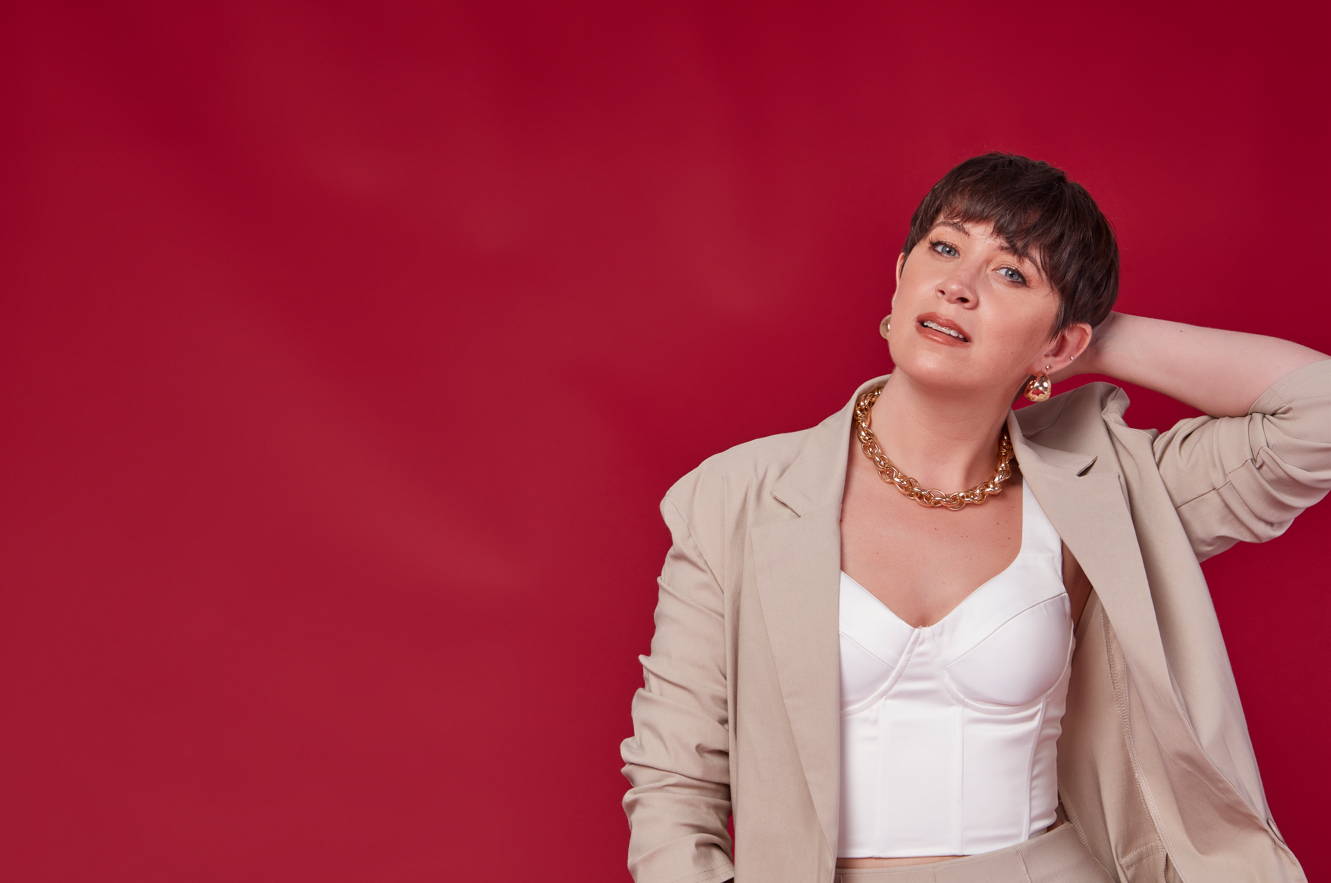 Was sharing that so publicly on Instagram always easy? Or were the moments where you wished you had never started it?
Talking about my cancer experience so publicly had good points: I had a whole community at hand who understood what I was going through as I was going through it, I could get the advice and support I needed and gave me a real sense of purpose and focus when I was really ill. But also it has its struggles. We didn't know how this was going to pan out. By me being so open about it I made myself really vulnerable. If things weren't going my way or I was particularly ill it was for the world to see. But strength comes from vulnerability so I would never change that but yeh it is hard sometimes. Sometimes I don't want to be the girl who had cancer, sometimes I just want to be Lozza. It did have its difficulties but on the whole I'm really glad I had that support and I wouldn't change how I've done it.
You do so many things for your community, from your blog, to your brand Girl Vs Cancer, your amazing podcast and you were even on First Dates - what's your favourite thing to do and what's still on your list?
My favourite thing to do is things like this. Being out, talking to people and showing them that there is a life beyond cancer. Some people will never be cancer free but that doesn't mean they can't live a thriving life. I think we're mis-sold this idea of cancer. My favourite thing to do is challenge people's perceptions of that. I love being in my community, hosting panels, learning from them and hearing their stories. That for me makes me happy. As for what's next, there is so much with Girl vs Cancer, we're becoming a registered charity, I have big ideas and big plans for how to support the community. It's going to be by the community for the community so instead of me assuming what they need they're going to tell me. Big ideas, big plans. One day you will see a Girl vs Cancer gig series - that would be the dream. We'd all have a dance and a good time and raise some cash for cancer!
What has been the most surreal moment of your career so far?
It was actually on Stand Up To Cancer 2018. I went into the green room and saw a mic pack that said Liam on it. Now anyone who knows me knows that Oasis are my people! So I said 'is that Liam Gallagher's mic pack?' and they said yes would you like to meet him? I got a bit flustered but the lady from SU2C said let me try and organise it for you. 20 minutes later I sort of forgot what she'd said and I just see this entourage, this hair and then this fleece. Next thing I know I'm stood face to face with Liam Gallagher at SU2C and he says "I know you! You're off the telly, you were on First Dates!" and we had a good 15 minute chat about my First Dates episode. Surreal! That also lead to the following year at Glastonbury him dedicating my favourite song to me as we'd both made it back to Glastonbury the same year! On the Pyramid stage in 2019 Liam Gallagher dedicated Slide Away to yours truly and I even have the lyrics tattooed on my arm as a memento! It's on my Hinge profile!  
You talk about cancer in a very real and raw way but always with that touch of humour. Are there any funny stories you can share about your experience?
There are so many things with cancer and you have to find humour in the darkness. I'm really lucky that I'm in a group of family in friends that find that really easy to do. Nobody tells you when you go through chemo that you lose your nose hairs so all of a sudden you get up fro the sofa and you're snotting on the floor! There was this one day when I was doing an Instagram story walking down the street and I turned my head to look at something and this massive bit of snot just flew in the opposite direction! That was hilarious. It's also funny how comfortable you get naked in front of people. I would always have my top off for about 18 months. There are always those funny moments! People might ask to see your bald patch and you think what is my life!?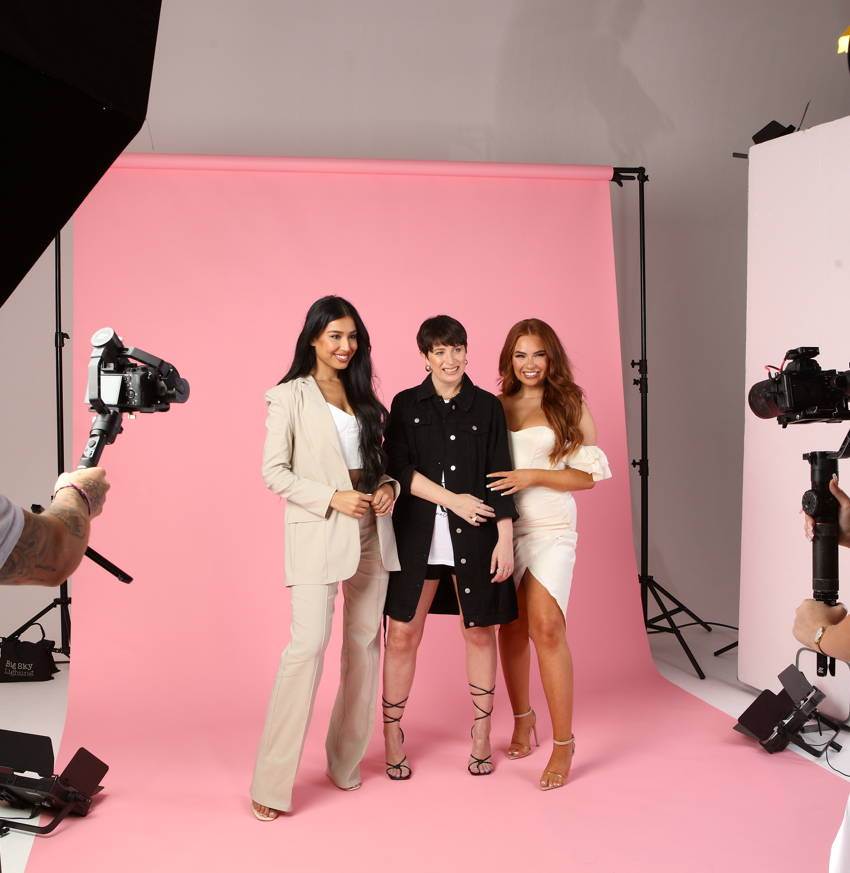 What do you think are people's biggest misconceptions of cancer?
I think people's biggest misconceptions of cancer are that it's elderly, that it's white, that you lose your hair, that it's incurable and that you can't live well if it is incurable. Cancer still has this big stigma around it and we equate cancer with death but i'm here to say that there is so much life! Nobody treats diabetics this way, nobody treats anyone with a heart defect this way there's something about the word cancer. I think because we don't understand it as well as we should, it's not discussed openly, we don't have education in schools about cancer or self examination. It's not part of our day to day language. People see what they see in storylines or see it in leaflets and hear about their elderly relatives having it. They don't really absorb it as they should. That's why I set out to do the work that I do. I am cancer. My whole community is cancer. We are all vibrant, loving, individual human beings. A cancer diagnosis is just as nuanced as the human attached. I think once you get diagnosed you get put in a box and I'm here to change all of that. We're done.  
Just going on from that point I know that you've said that once people see the diagnosis they stop seeing you. What do you think are some of those lesser known mental health effects? I know you've spoken really openly about love life and anxiety, panic attacks. What do you think people need to know?
People need to know that just because you have cancer you haven't stopped being who you are. I may have had cancer but I still wanted to go to drinks, drink prosecco, I still wanted to see my family friends, I still wanted to travel...I was still me. I think because people don't understand it and it's not normalised people tend to shut it down which can make you feel so isolated. I don't think people realise how isolating a cancer diagnosis is. All your friends and family love you and want you to do well but you're the one going through it. You're the one who sits in bed at night going through these side effects thinking is this going to work out. Am I going to be ok? Because nobody can actually tell you that it is going to be ok. There's the ongoing things too. If you're someone like me who had a primary diagnosis and you're coming to the end of a treatment, it's almost like you fall off of a cliff edge. While you're going through treatment it's like you become mechanical and you're on this conveyor belt outside of your body. You're going through the conveyor belt, they're fixing all your organs, they're sorting things out, jobs done, car is fixed - off you go. But actually that's when the trauma starts. You have to build a semblance self, who you are, it changes your outlook on life and it takes a really long time to figure out who you are and what you want. How the world around you fits into your new perception of it. It does impact so many things in life. I am infertile because of my cancer. Don't worry I've got eggs on ice! Nine - so I can make a Blazing Squad or a cleaning company I haven't decided yet! I know that that's going to be a challenge when I do eventually want to have children. There isn't a time when I don't find a lump, a bump, a cough, have a pain in my hip, something that I don't think is the cancer spreading and coming back to get me. And also this feeling of always being on borrowed time. Once someone rips the rug from underneath you and you realise how fragile life can be you can't ever un-know that. So, I do feel like I live my life with a sense of urgency that's good in so many ways because I don't really feel the fear I just do things. I don't talk myself out of things anymore, I let myself try things because what's the worst that could happen? It's not gunna give me cancer! If things don't work out then that's fine. It is sad that I feel this sense of urgency because I'm scared that I might not get tomorrow one day. So yes there are big mental health impacts and they are very long term.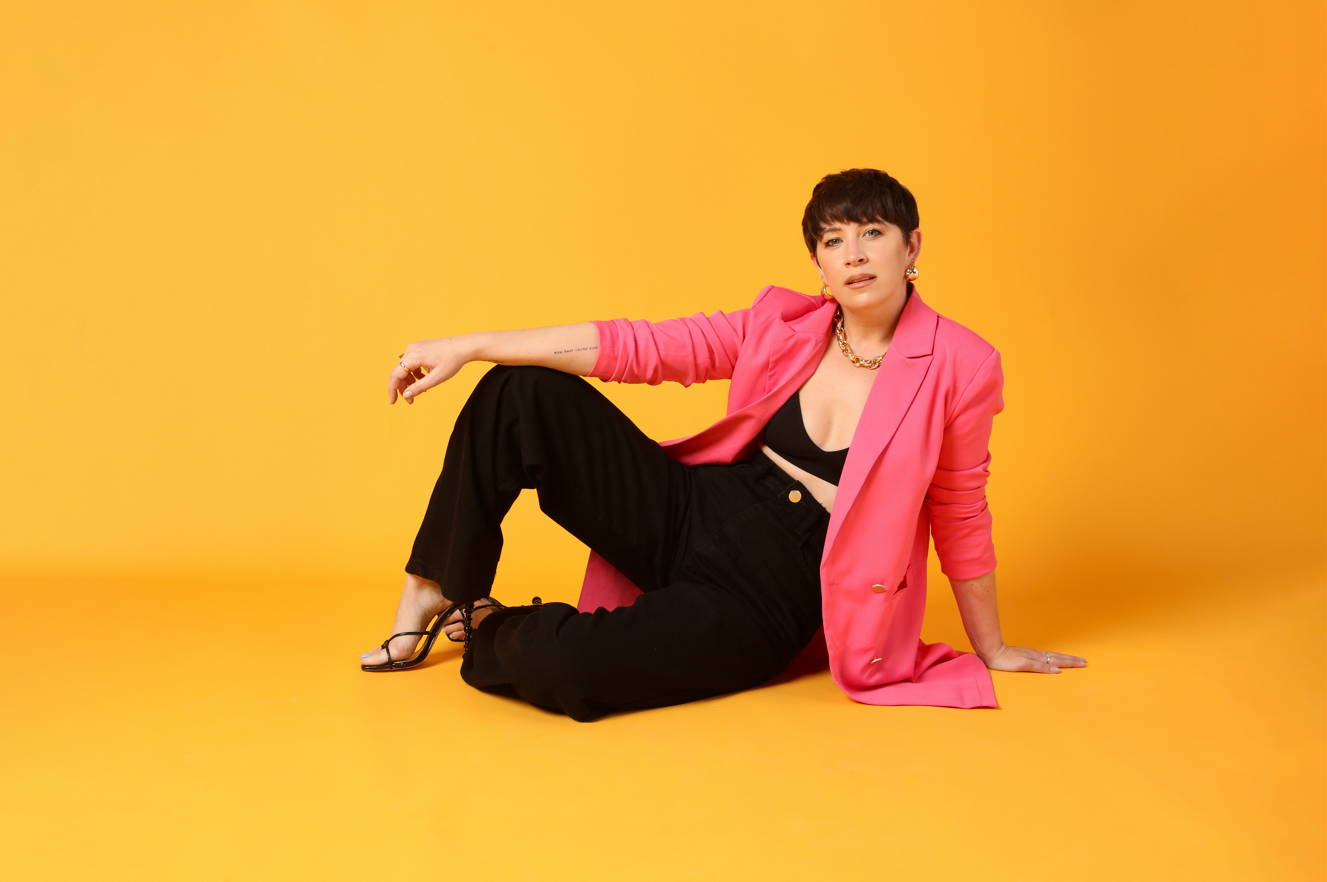 In an interview you once said "let's get busy living" - do you ever feel a bit annoyed whenever friends who haven't experienced cancer don't live with that in mind?
I don't ever sit there and think oh god your problems aren't problems because you haven't had cancer, everything is relative. Even my cancer experience compared to other cancer experiences I would say they've had it tougher than me. But what I do really try with my friends is encourage them to know that you are the master of your own destiny. Your future is in your hands. If there's something you want to do you have the capacity to do it. If there's something you want to try it's up to you to take those steps. If you want to text that person and tell them you like them, text them. If you want to book a flight, book it. There is nothing standing in your way other than you. That's what I have to remind myself of and try and hit home with my friends when they're having those moments of feeling lost or frustrated. Babe, you are the master of your own destiny, it's in your hands. Take the steps to the life that you want because the only person standing in your way is you.  
What do you think as a society, as individuals, as brands, as communities, as schools we could do better?
I think as a society what we could do more to support the cancer community is stop burying our head in the sand as a start. 1 in 2 people will get cancer in their lifetime, so if it's not you it's going to be someone very close to you and someone that you love. We all need to get comfortable with talking about it, we need to be making sure that young people are aware of their bodies and that they're comfortable, confident and have ownership of their bodies. Being able to go to your GP with that kind of confidence to go this isn't right for me I want a referral. If someone in your family is diagnosed with cancer, you need to know where you can go to get the information to support them. What to buy, where to take them and what they need. I think societally because we equate cancer with death people switch off to it which is the wrong attitude because there is so much life. As a society we just need to get a bit more comfortable having difficult conversations and we all need to get a bit more comfortable with getting our head out of the sand and seeing what's happening around us. If you have something in your body that is cancer and you don't get it checked out, it's not going to go anywhere. It's not going to get better it's just going to get worse. So burying your head in the sand is not a solution to the problem. What you need to do is take ownership of your health and know that with the advances in cancer research, all the things that Cancer Research UK and Stand Up To Cancer fund there is life and there is a future. You can live life well with and beyond cancer but if you stay at home and don't get things checked and you don't take ownership of your health then your chances of survival drop. We need to own our health. We need to stop being scared. You've got so much more of a chance of a happy live by being brave and getting it checked out.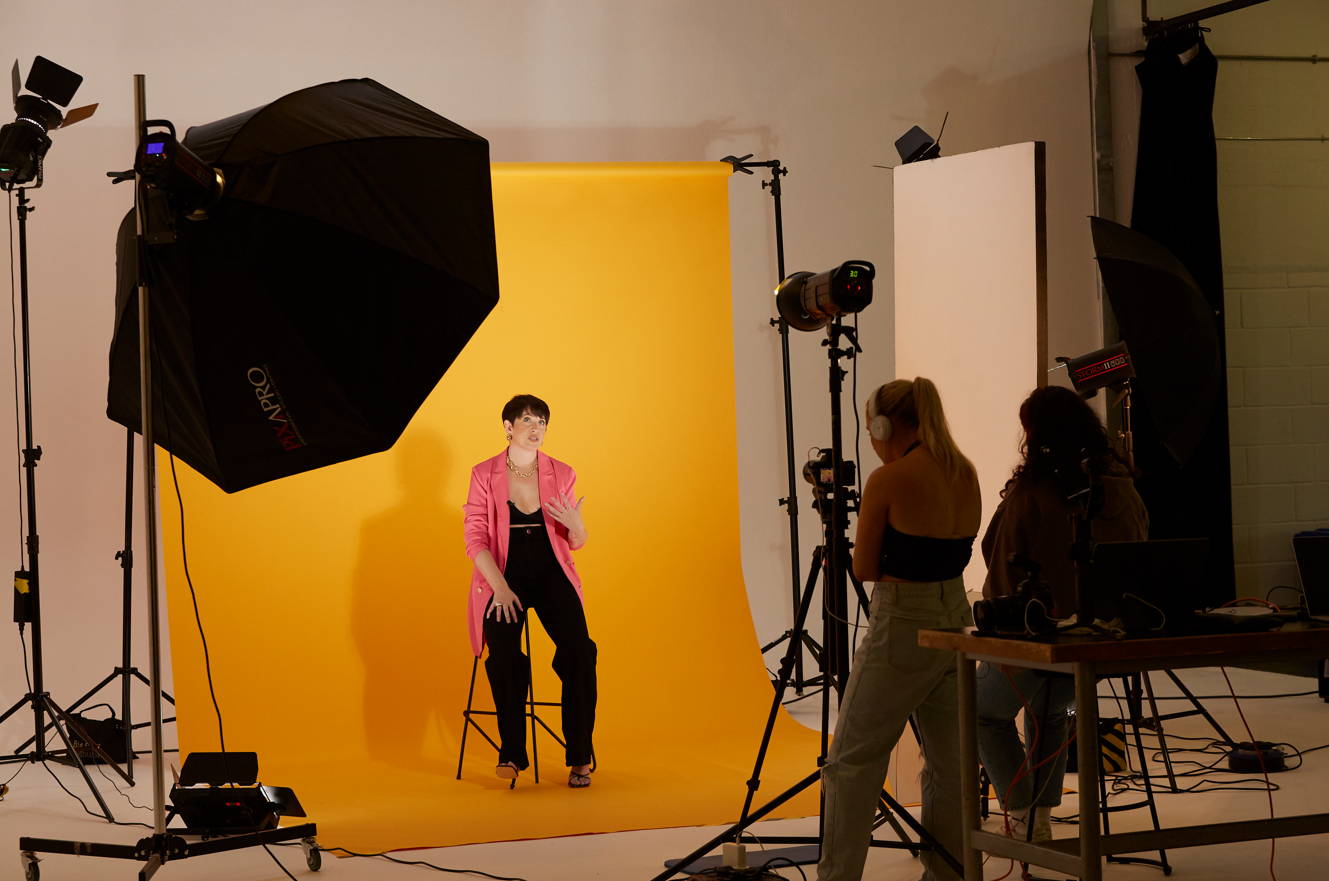 Why do you think campaigns like Stand Up To Cancer are so important?
I'm such a big fan of Stand Up. The first day I posted using the #girlvscancer was Stand Up To Cancer day. I was on my way to work in between getting my diagnosis and starting chemo and I came out of the station and there was those wonderful volunteers who stand outside the tube. I pulled out a note and put it in the bucket and she went, 'Thank you, that's really going to help those affected by cancer' and I replied yeh that's me! I said it out loud and she just looked at me and I explained that I was starting chemo next week. It was just a moment of thinking, these things are actually helping me. All of a sudden it just made me realise that I'm one of those people that Stand Up To Cancer share stories of. Stand Up To Cancer for me has always been this amazing force because it normalises the conversation. I don't feel like it's a down and out place, I don't feel like it's a pity party, I feel like it's a place to talk openly, honestly and with a sense of humour about cancer and raise really important funds that will save lives in the process! Without things like Stand Up To Cancer we'd still be in the Dark Ages. Being sat here today and being part of this is one of the proudest moments I've had. This is so important to me.        
1 in 2 of us will get cancer in our lifetime* but we can all support research to beat it, so get comfy, order a takeaway, get the donations page up at the ready and make sure you tune in to Channel 4 on Friday 15th October at 7:30pm for a night of incredible television.
Together we Stand Up To Cancer and help save lives.
*Ahmad AS et al, British Journal of Cancer, 2015
---
---