THESE ARE THE CANDLES YOU NEED RN

Lockdown has seen us celebrate the little joys and one of mine is a new candle. I love starting my morning with a coffee, going through my emails, my fave playlist and lighting a candle. Such a simple pleasure but it really brings me a lot of happiness. What's more, for whatever reason, I don't get the same post-purchase guilt when I buy homeware.
Yes, the evenings are about to get a lot less cosy and a lot more sun-drenched (hopefully) but candles are a must from season to season. It won't be long before you can have friends in your garden so get it looking like a Pinterest heaven with some candles. Date night still requires some ambient lighting and what's the point in having a bath without some relaxing candles?
With all that in mind I've rounded up my favourite wax wonders that you should be purchasing right now...
FEMME CANDLES - SEND NUDES

These are EVERYWHERE. If you haven't seen them - where have you been? What is more gorgeous than the curves of a female body? Not only do these look chic and artistic af they also champion women of all shapes, sizes and colours. Who knew I needed a healthy dose of body positivity and a candle?
These make the perfect gift for your fave females and have a scent for everyone. From refreshing coconut to spicy black plum and sweet vanilla there's something for every nose.
GREY MIA HARLOW SCENTED CANDLE
NUDE ELYSIUM VELVET ROSE AND OUD CANDLE
ZODIAC CANDLES - WRITTEN IN THE STARS

These zodiac candles make the perfect presents. Let your besties know you're thinking of them and send them a candle with their sign. Also perfect for birthdays, secret Santa season and housewarming gifts.
Not only are these super cute they smell divine. Refreshing white tea and mint, musky rose velvet and oud and fresh lavender and chamomile.
CAPRICORN - LAVENDER AND CHAMOMILE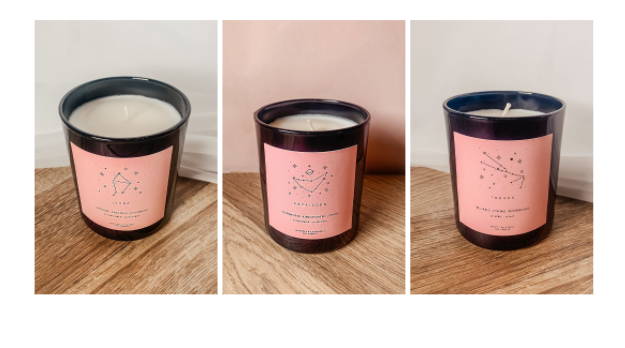 SLOGAN CANDLES - SAY IT LOUD

For those of you looking for a little side of sass with their candle these from Naomi Joy are perfect!
With spicy notes of pepper, calming floral scents and musky amber notes these have sassy scents to match.
If you're one to say it how it is these are your new bedside table BFF.
If you're someone who tends to gravitate towards the fresher, cleaner scents then these are for you!
This two wick candle is the perfect scent for a post clean house. You know when you've really gone to town on your flat, opened up some windows for some fresh air and then put on a candle to really amp up the freshness? Looking for something to make you think of holiday? This organic candle from Mia Harlow has notes of coconut. Get me to the beach! Lastly, these wax melts come in 3 scents: coconut & sandalwood, fresh linen & hibiscus and lemon & lavender.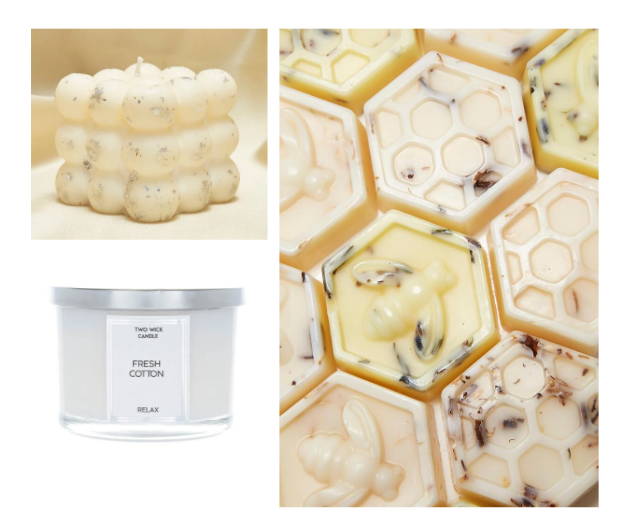 More into musky, spicy scents? We got you covered. This pink pepper candle is warm and woody and comes in a super simple glass jar (which you can def re-use)! This candle from Katie Alice has amber notes and has us thinking of boho heaven and summer vibes.
Saved the best until last didn't I? These pink elysian candles not only look beautiful but smell gorgeous. Think smoky, musky, spicy and fragrant. You're also getting five for the price of one. Yep, you're welcome!
PINK ELYSIAN CANDLES - VELVET ROSE & OUD
If none of those have tickled your fancy, browse our full collection of candles and diffusers!
Looking for more homeware? Check out our full range right here.
---
---