TRENDS FROM THE VILLA: UNDERBOOB SWIMWEAR STYLES

THE LOVE ISLAND GIRLS ARE LOVING THE UNDERBOOB BIKINI STYLE AND HERE'S HOW TO GET IT RIGHT…
You've all seen it and you all remember it… Episode 1 brought us the Love Island underboob bikini and boy has it got us craving a hot holiday. Cut out swimwear has been a fave for a while now, but the underboob trend takes it to the next level and we're here for it. But where has the underboob crop top and underboob bikini trend come from, and can we pull it off? (Uh, yeah, duh).
WHERE HAS THE UNDERBOOB TREND COME FROM?
Kylie Jenner, Bella Hadid, Olivia Culpo and even the queen herself Beyonce are all fans of this titillating trend. Yep, we're talking about the underboob. Who started this trend? The Kardashian sisters have definitely got something to do with it (as always) and no it's not about badly fitting swimwear, it's a LEWK!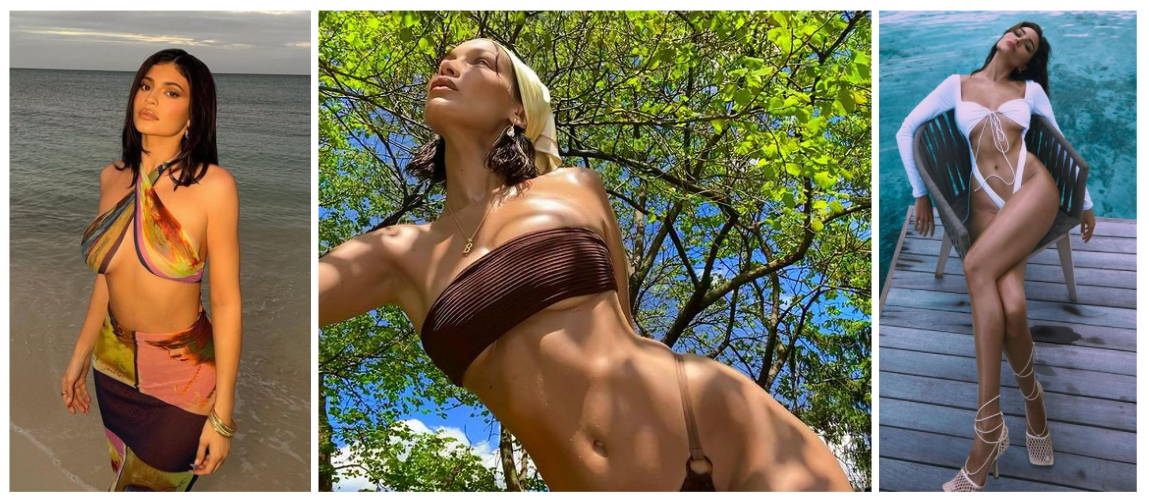 ENTER: THE NOW INFAMOUS LOVE ISLAND UNDERBOOB BIKINI
If you haven't been living under a rock you'll know that Love Island is back with a new series. We finally got back into the villa and met the Islanders on Monday night and we can't wait for what is set to be an explosive series. All the cracking on, all the coupling up, all the dramz and of course all the ISAWITFIRST outfits! This was when the underboob bikini hit our screens...

That first swimwear look is vital and sets the tone for each Islander. At ISAWITFIRST HQ, we like to play the 'What would your Love Island entrance outfit be' game - we'd definitely recommend doing it whilst you make your morning coffee, it's a great game. This year three of the gals, Faye, Shannon and Sharon went for underboob bikinis to make their Villa debut and we are so here for it! Whether you're a proud member of the Itty Bitty Committee or you're blessed with bigger boobs this style works for everyone. Need some inspo? We got you.

UNDERBOOB SWIMWEAR IS MAKING A SPLASH THIS SUMMER
So, you might not be diving from the highboard or doing water acrobatics in these babies but just like our Faye, you will have all the boys falling at your feet. (Psst, you can shop Faye's style here). From Sharon's ISAWITFIRST cut-out swimsuit in episode one to these below, we've got your underboob bikinis and swimwear covered (well kind of)...



BUT CUT OUT SWIMWEAR ISN'T GOING ANYWHERE EITHER
Cut-out swimwear might be sharing the limelight with these new underboob vibes, but that's fine. There's room for all. If underboob swimwear isn't your thing but you still want to show a little sneaky peak of skin, check out these killer cut-out swimwear pieces we're just dying to show you.



ADD AN UNDERBOOB TOP TO YOUR DAYTIME LOOKS
However, you don't have to cop the plunge swimwear if that's not for you. High-waisted jeans and an underboob crop top would definitely still turn heads. Maybe you've got a holiday coming up or you're just looking to flash a little flesh when you're out with the girls this summer, you can still amp up the glam with these day to night underboob tops and dresses.
So there you have it. The underboob is back. If there was ever a look that fitted into our post-lockdown, freedom wardrobe it was this! Keep your eyes peeled for more inspo in the Villa as the girls rock ISAWITFIRST for all the coupling up and cracking on.

Love Island continues tonight at 9pm on ITV2 and ITV Hub. Episodes are available the following morning on BritBox.
---
---