WHAT TO WEAR FOR A LOCKDOWN WALK

Lockdown walks have officially taken over as the moment we look forward to the most every day. Getting out for fresh air is so important, so we've gotta make sure we look good doing it! These are our top 5 ideal looks for your next stroll, whether you're dressing up or down.
An all black look is always my go-to. You can never go wrong with all black pieces, and this fit is no exception. Gilets are trending massively RN, so this long lined gilet coat is perfect for an hour's walk at lunch.
Keep yourself warm with some cosy layers underneath like a hoodie or long sleeve top. Keep your legs warm with these jersey leggings, and don't forget your chunky boots to finish the ultimate A/W outfit.
Complete the look with a crossbody bag for your lipgloss and phone (the two most important essentials). If the air's got a bite, why not add a beanie?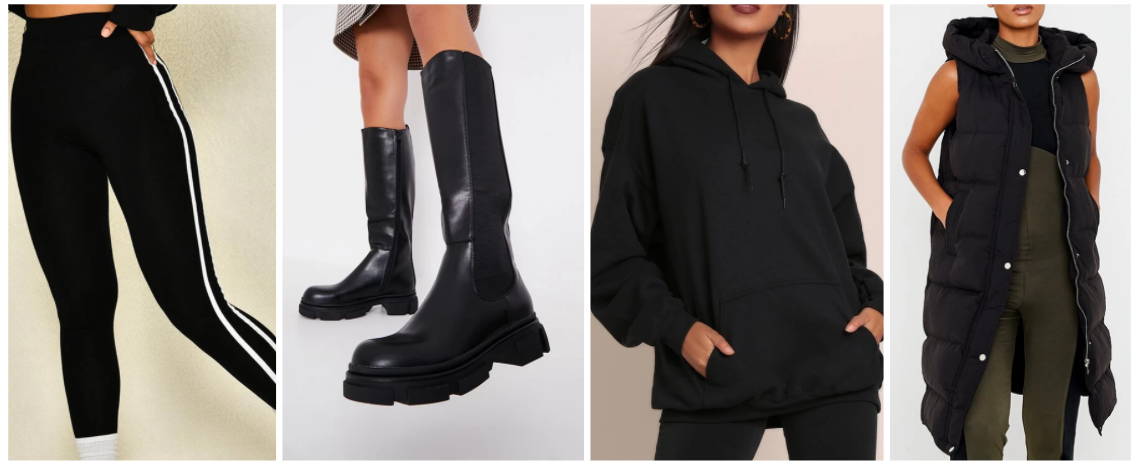 Look 2: Not-so January blues

This outfit is definitely sure to cure your January blues (quite literally!) Pastels are coming back around for the spring months, but you can definitely start now with this blue themed look.
Keep it casual with these split hem blue jeans, perfect for a relaxed look. Pair with this ultra cute heart jumper in light blue and yellow from our Valentine's collection.
Complete your fluffy look with a blue borg coat and get on your whitest trainers. If you're feeling up to it, get yourself a takeout coffee and do a photoshoot for some Insta content!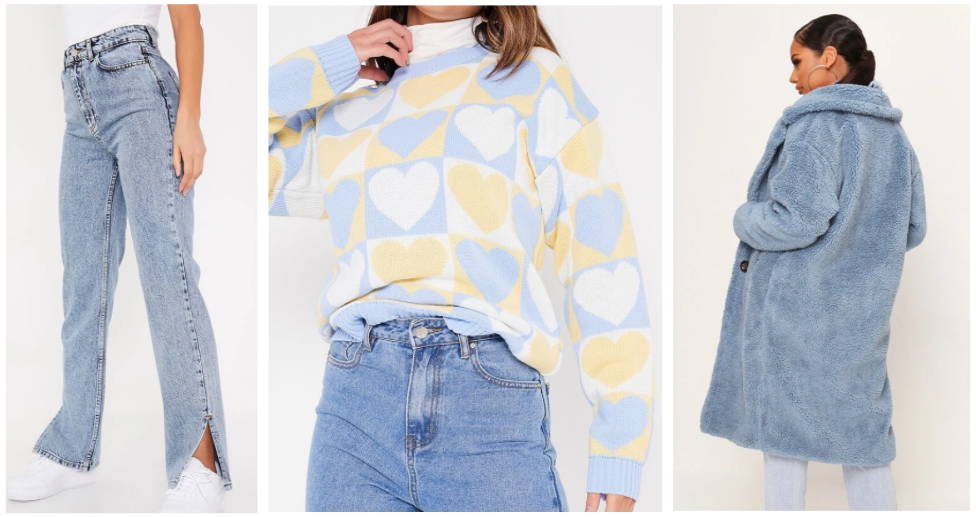 This is the aviator jacket of DREAMS! Borg lined and super detailed is exactly the coat we want for a lockdown stroll. You're bound to turn heads in this fit, so be prepared!
A roll neck jumper will keep you feeling extremely warm, but you can still add a scarf if you're feeling extra chilly. If you're looking for something other than knitwear, we really recommend getting a hoodie on underneath the jacket for a more street style approach.
Some high waisted black jeans will go with your black and white vibe, tucked into some chunky boots - perfect for getting a little bit muddy!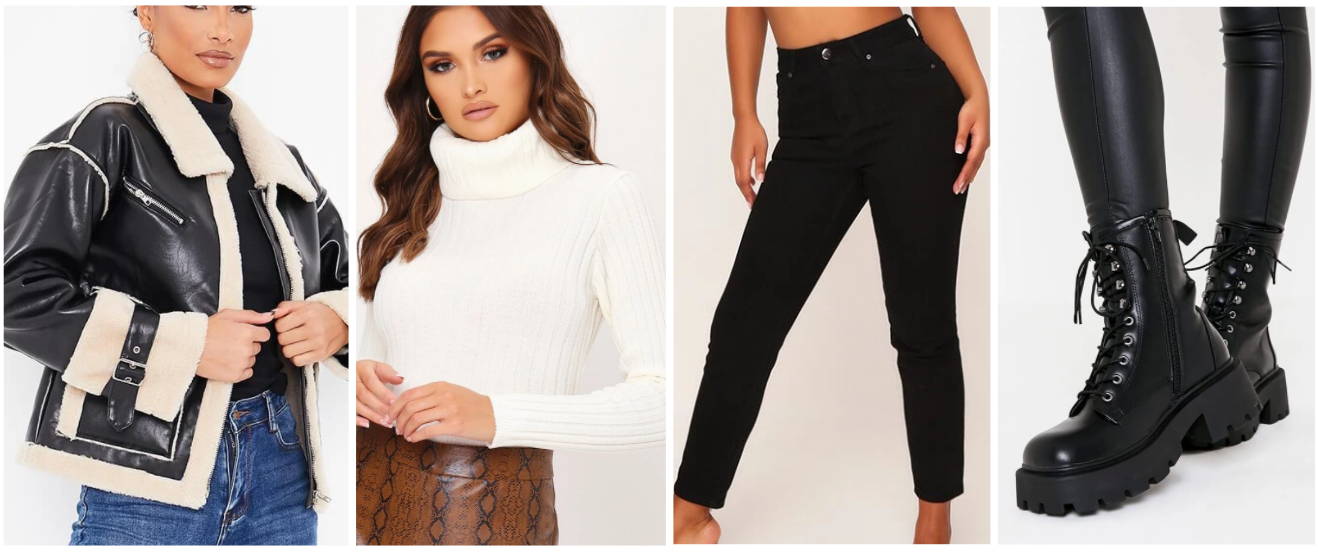 Look 4: Sage in the spring

If you're loving sage RN, a lounge set in this spring tone will be right up your street. Lounge sets are super easy to wear and create an effortless vibe. They instantly make you look like you've really got your life in order because everything matches (even if you actually haven't!)
Don't forget your borg coat to go on over the top. We highly recommend this long line mid grey borg coat because it'll literally feel like you've got a blanket on while you're breathing in the fresh air - what more could you want?! Finish the look with this crossbody bag and you're good to go!
Product links: lounge set, coat & bag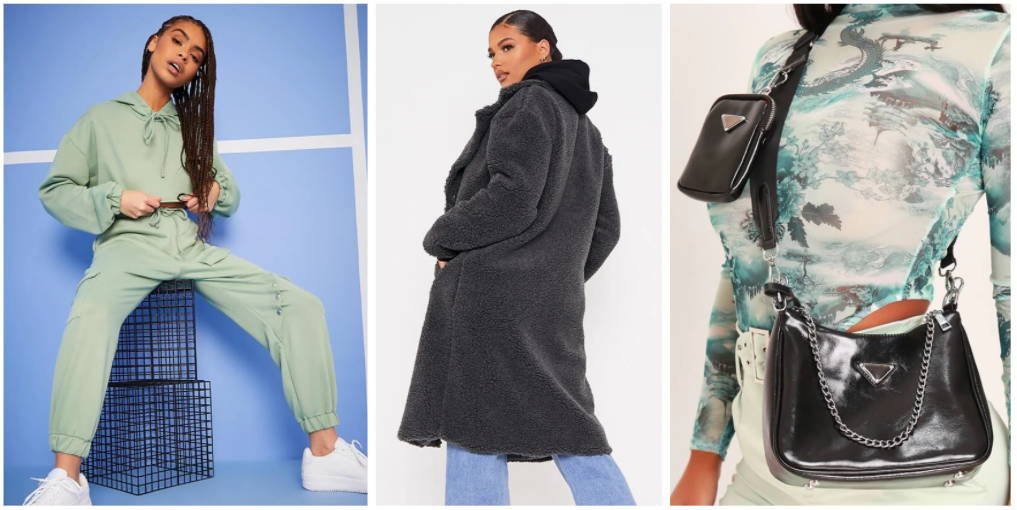 If warm neutrals were an outfit, it'd be this. All our tonal dreams are coming true with this one! Feeling extra for your Friday morning walk? Go for some coloured faux leather trousers and an oversized jumper.
The shacket compliments the warmth of the outfit so well and brings it all together, and is a must-have for this winter. Stick on a beige beanie to keep your ears warm (and to cover the hair you've probably not washed in a few days - it's a lockdown WHO CARES!?), put on a podcast and go feed the ducks!
Product links: jumper, leather trousers, coat & beanie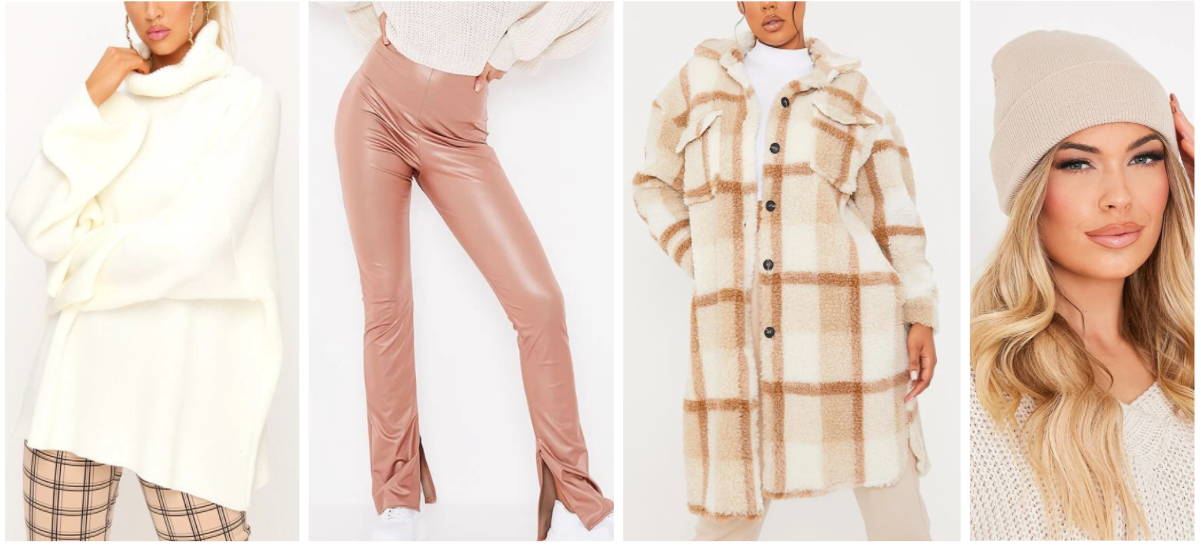 ---
---