Whether you've booked your summer holiday yet or not, it's never to early to start planning your wardrobe! We've had a think about all the things you might get up to on your hols and pulled together an outfit guide to kickstart your holiday shopping.
Shop our Holiday Shop here!
What To Wear To The Airport

The first look you need to plan is your airport outfit. Comfort is key for this one, remember you'll be sat still for hours on your flight!
We'd recommend joggers or cycling shorts paired with a basic vest or oversized T-shirt, as well as a hoodie or sweatshirt that you can easily chuck on to keep you warm up in the air (and in the English weather when you come home). You can easily take it off and tie it around your waist when you get to your destination. Don't forget your airport accessories too – some sunglasses and a big bag to take on board with you!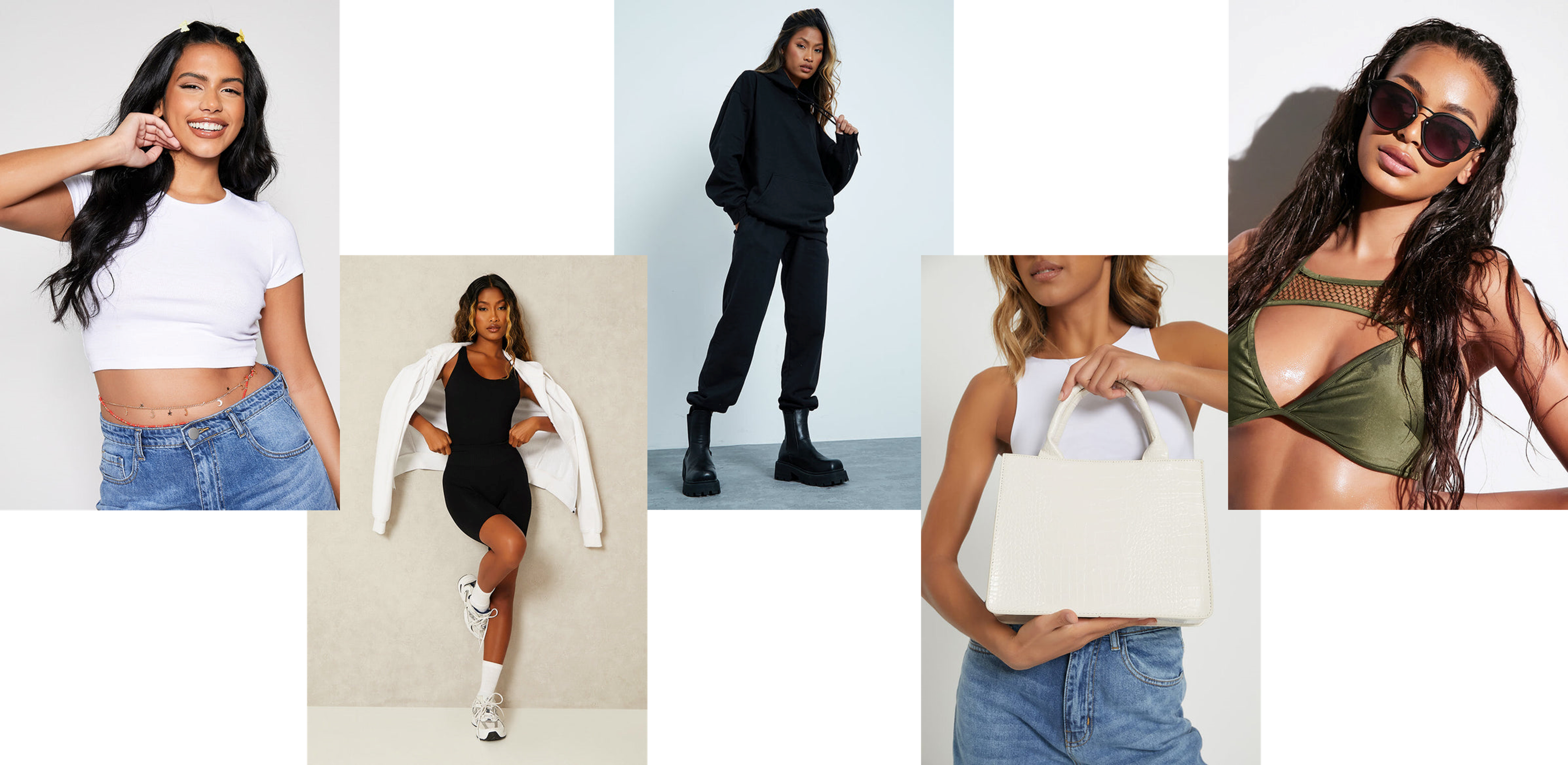 Planning on laying by the pool all day and soaking up the sun on your next trip? Treat yourself to some new swimwear and a sarong for when you wander over to the bar. Don't forget a towel to claim your sun lounger with. Make sure you get down to the pool early to bag one!
Too impatient to wait to build up that natural glow? Us too. Take some fake tan along with you and get golden for your first day in the sun! No one's gonna know...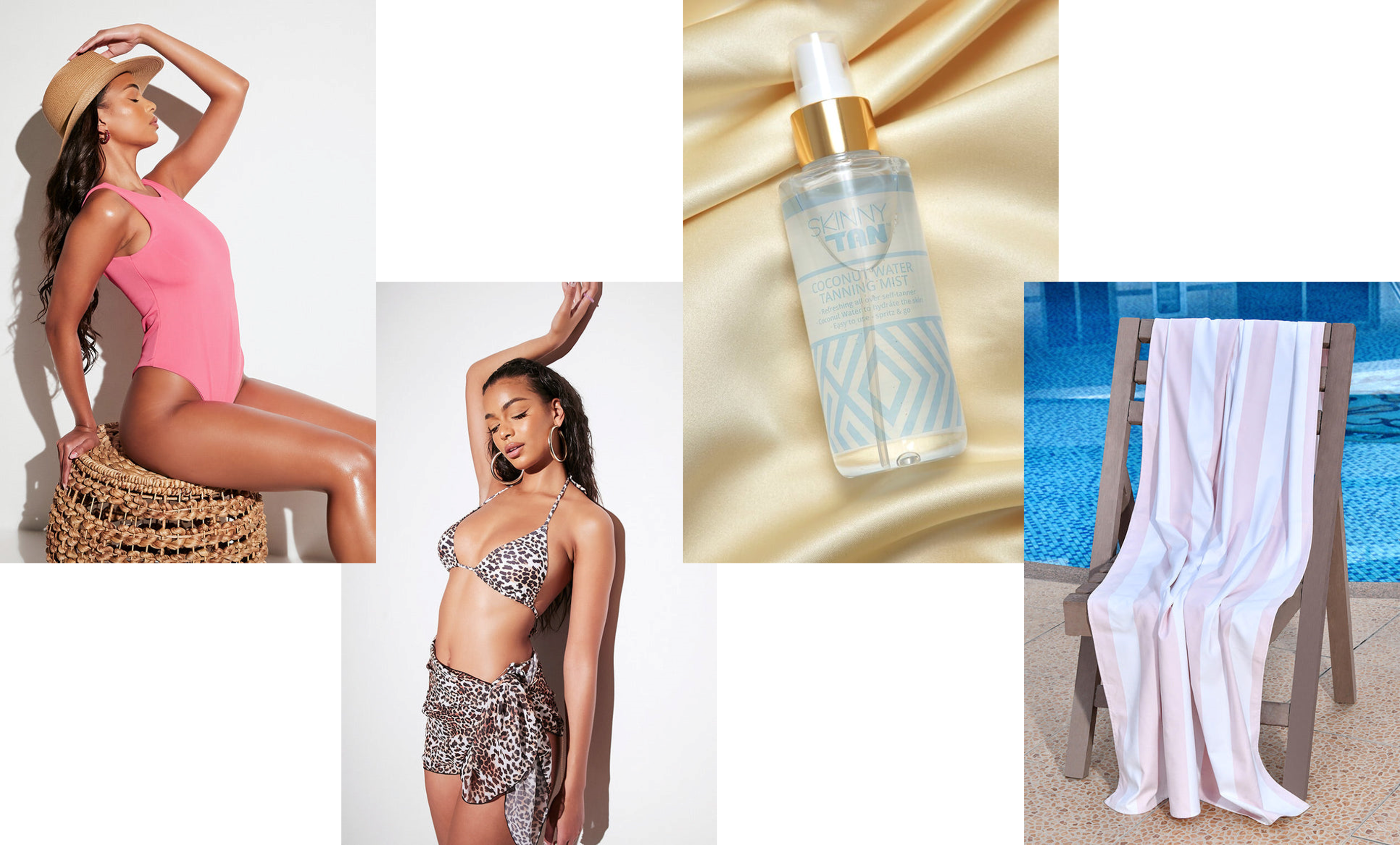 For a trip to the beach, you wanna make sure you're comfortable in the heat! The perfect beach outfit is something that's loose fitting and easy to throw on over a bikini, a straw hat to shade yourself from the sun and some sandals that are easy to chuck on when the sand's too hot, or take off so you can dip your feet in the sea!
Don't forget to take a big enough bag for all of your beach essentials - some snacks, a towel, your sunglasses and something to read or listen to!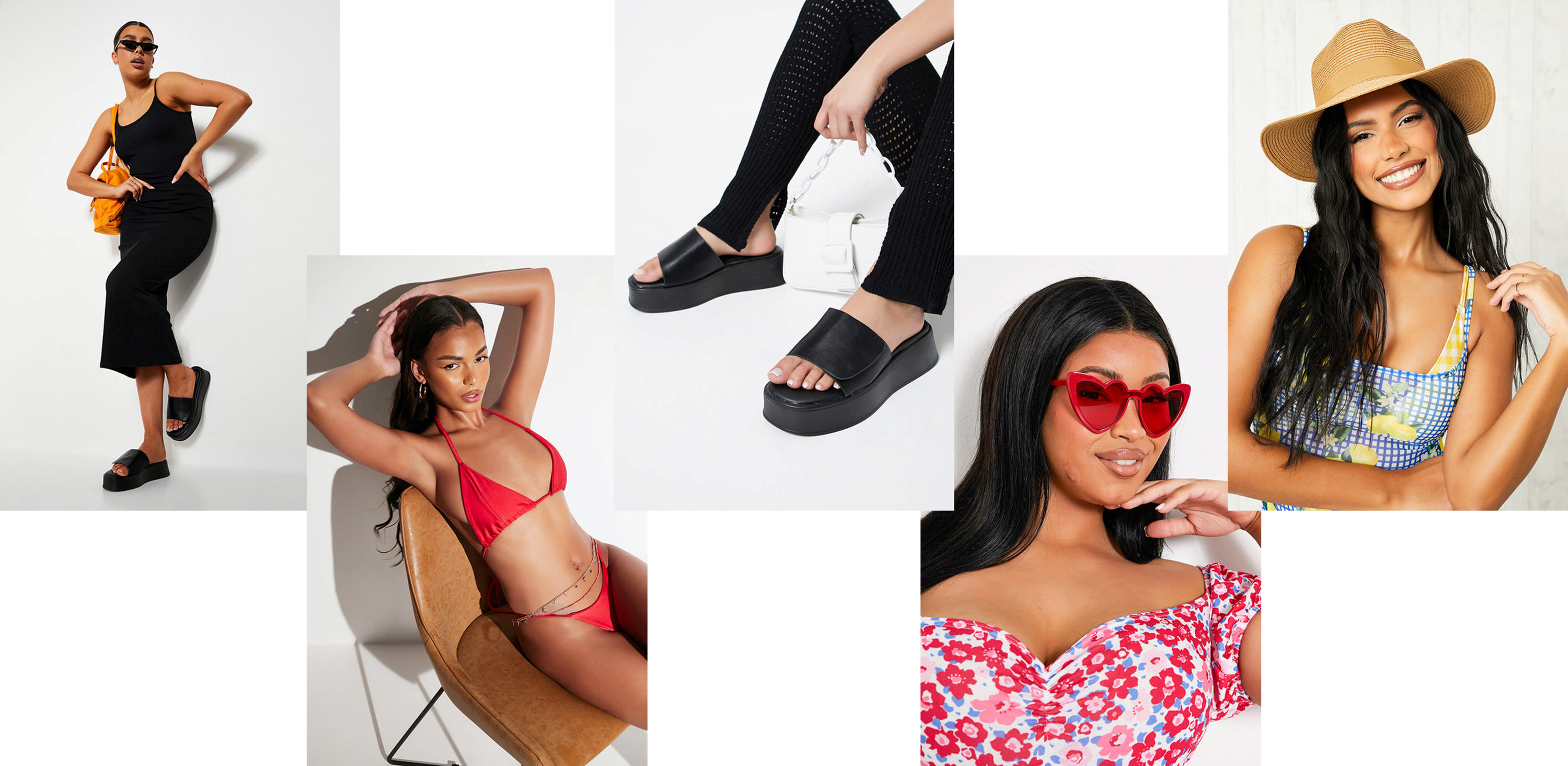 What To Wear For Sightseeing

Don't forget to set a day or two aside to explore the local area and do some sightseeing! We love to soak up the culture as much as the sun, and can't help ourselves when it comes to souvenir shops. It's also a great way to scope out restaurants and visit cafes to try local food. You can also find cute spots for photos for Instagram!
Our perfect sightseeing outfit would be some denim shorts and a cute top or a little summer dress. And make sure you wear your comfiest sandals! No one wants blisters when they'll be going in the sea. Ouch!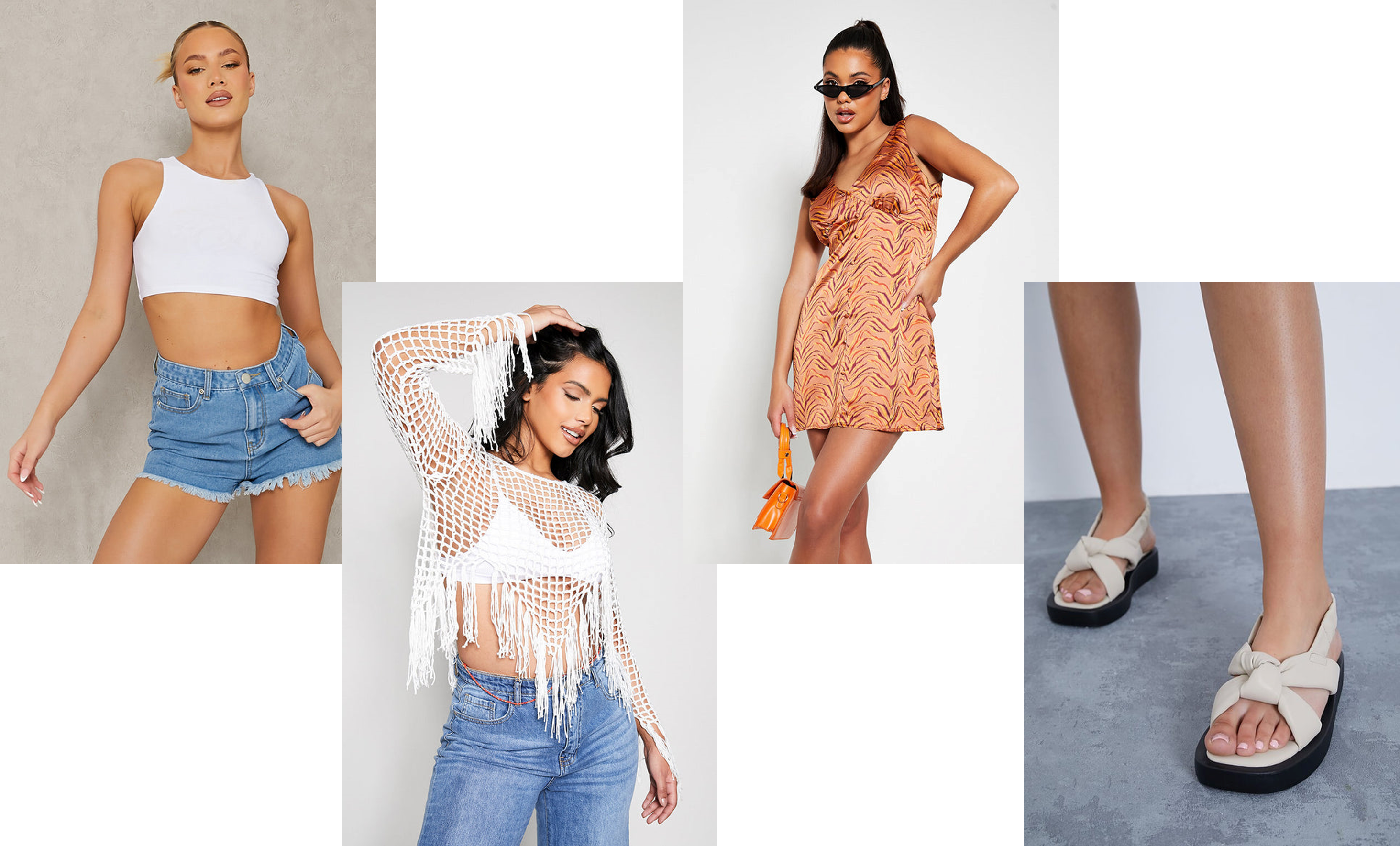 What To Wear To A Beach Club
If you're going to a beach club during your trip then you've got to go ALL OUT. Beach club outfits tend to be on the glam side, but we've got that covered!
The best plan is to choose your fave swimwear and match it to your cover up, but you can't go wrong with a bit of sparkle! This diamante bikini and matching mini skirt is the perfect co-ord for beach club drinks. Wear with some platform espadrilles and cute sunglasses and you're done! The perfect 'fit for sipping cocktails and vibing to music all day.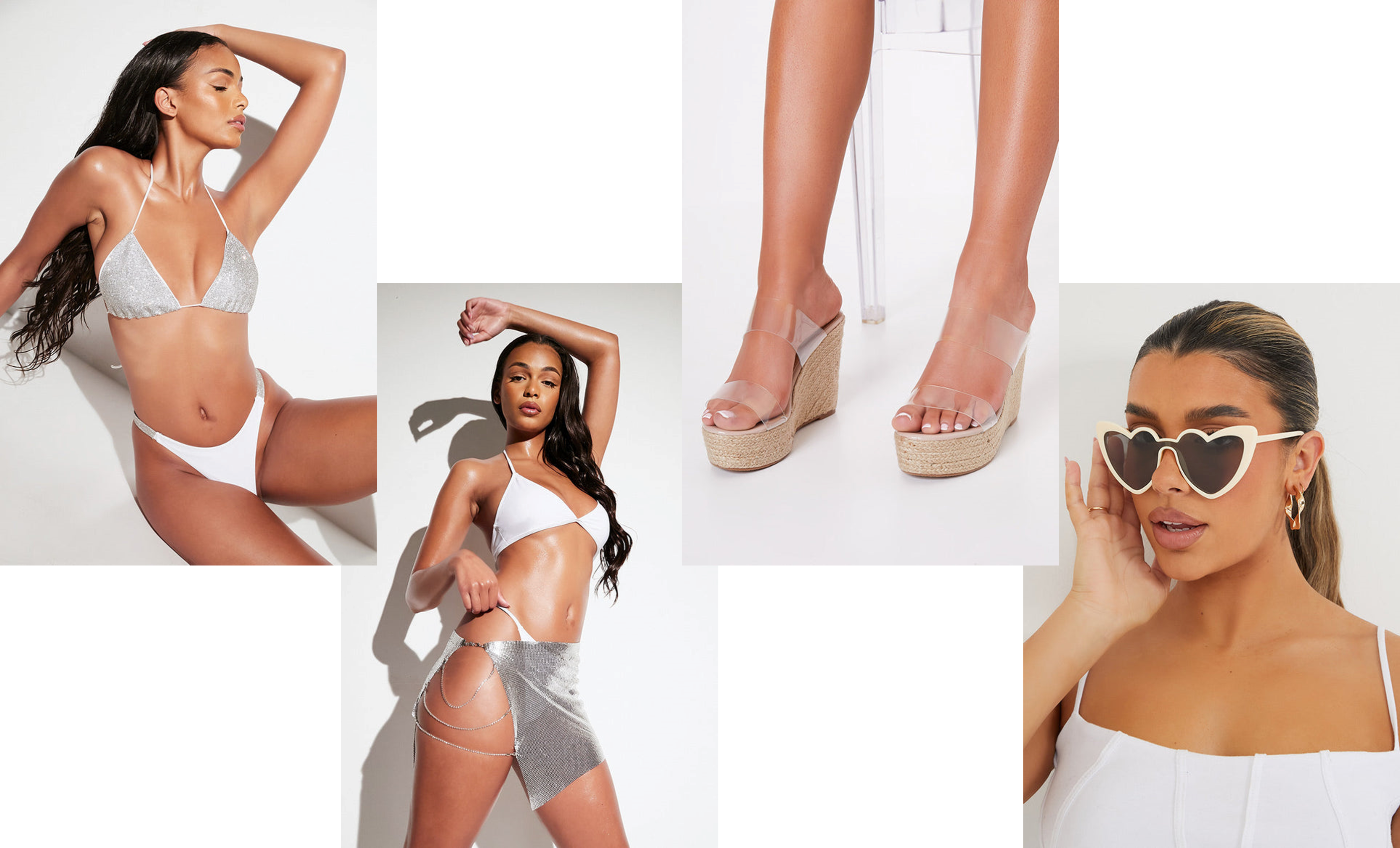 What To Wear To Dinner On Holiday
Out for dinner outfits are the most you might dress up during your whole trip, so we say go big! These looks are gonna end up on Instagram after all, you can't pass up dreamy golden hour lighting...
Heeled sandals are a must for this 'fit (just be careful on those cobbled streets!) and we'd be opting for some wide trousers or a floaty dress. Lighter colours will make you look more tanned, so neutrals or white is a vibe here! Don't forget to take a cardi or denim jacket out with you too, 'cos it can get chilly when the sun goes down.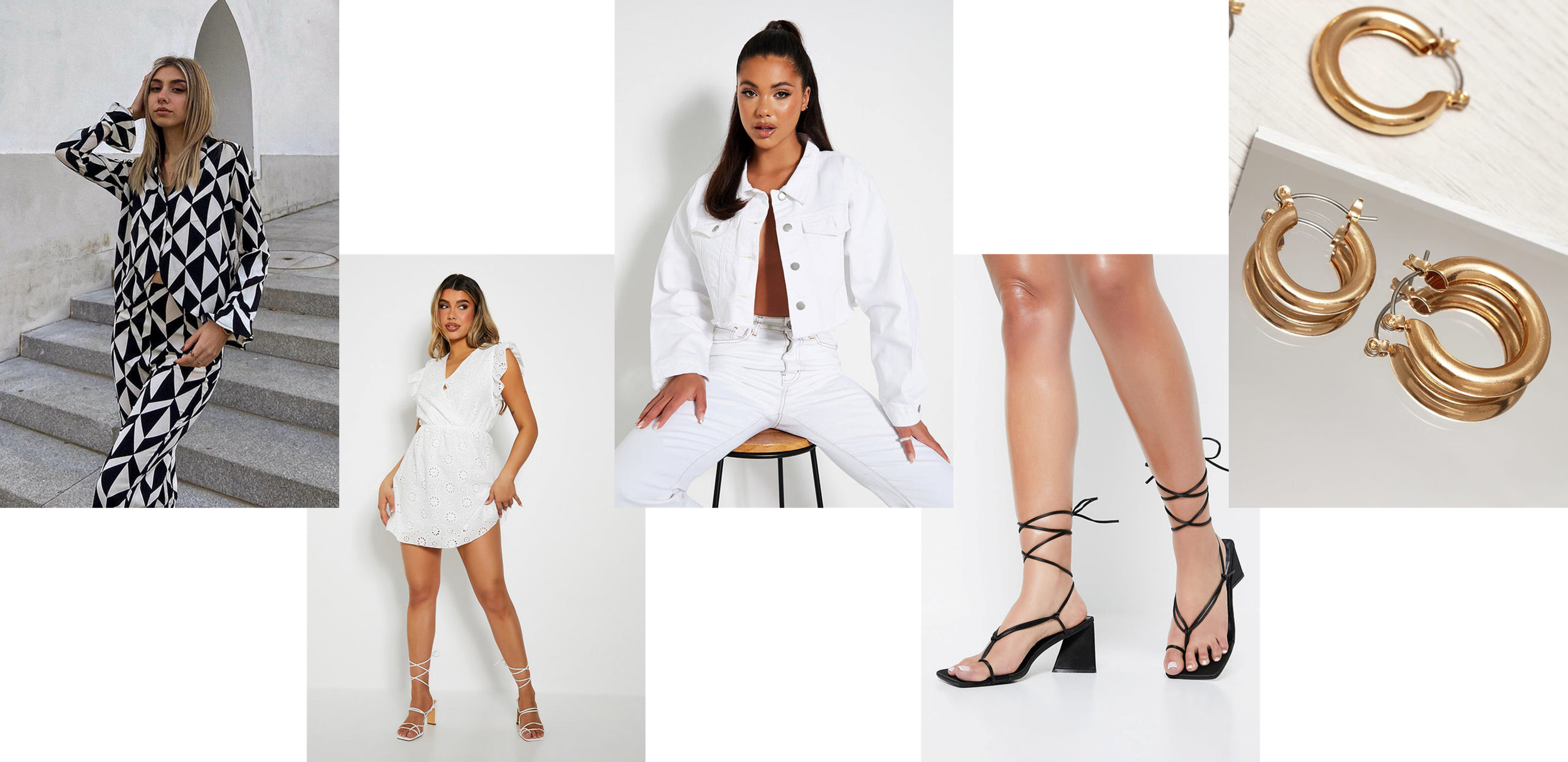 ---
---