WHAT TO WEAR FOR DAY DRINKS

It feels good to finally say day drinks are officially on the horizon. We've been waiting so long and now it's coming - and we gotta look good!
For your day drinks debut, with so many options are trends, it's hard to know what route to go down. Are you wearing a dress? A graphic tee? A classic blazer? With the help of us (and your group chat!), we've rounded up our fave looks that are guaranteed to stun when you're back sipping your fave cocktail with your besties.
OPTION 1: CLASSIC WHITE SHIRT

Day drinks really wouldn't be right without a white oversized shirt. It's an effortless look that you can put with pretty much anything for your new go-to.
In this instance, we'd definitely opt for some skinny fit flared jeans. They're fitted on your thigh, but give a 70s feel in the lower half. We're all about different denim silhouettes, so these are perfect for your first day drinks debut in 2021.
Go with some socks boots to get your from bar to bar, and make sure you wear some jewellery - especially a necklace to enhance your chest and collarbone area!
Shop the look: oversized shirt, flared jeans, sock boots, necklace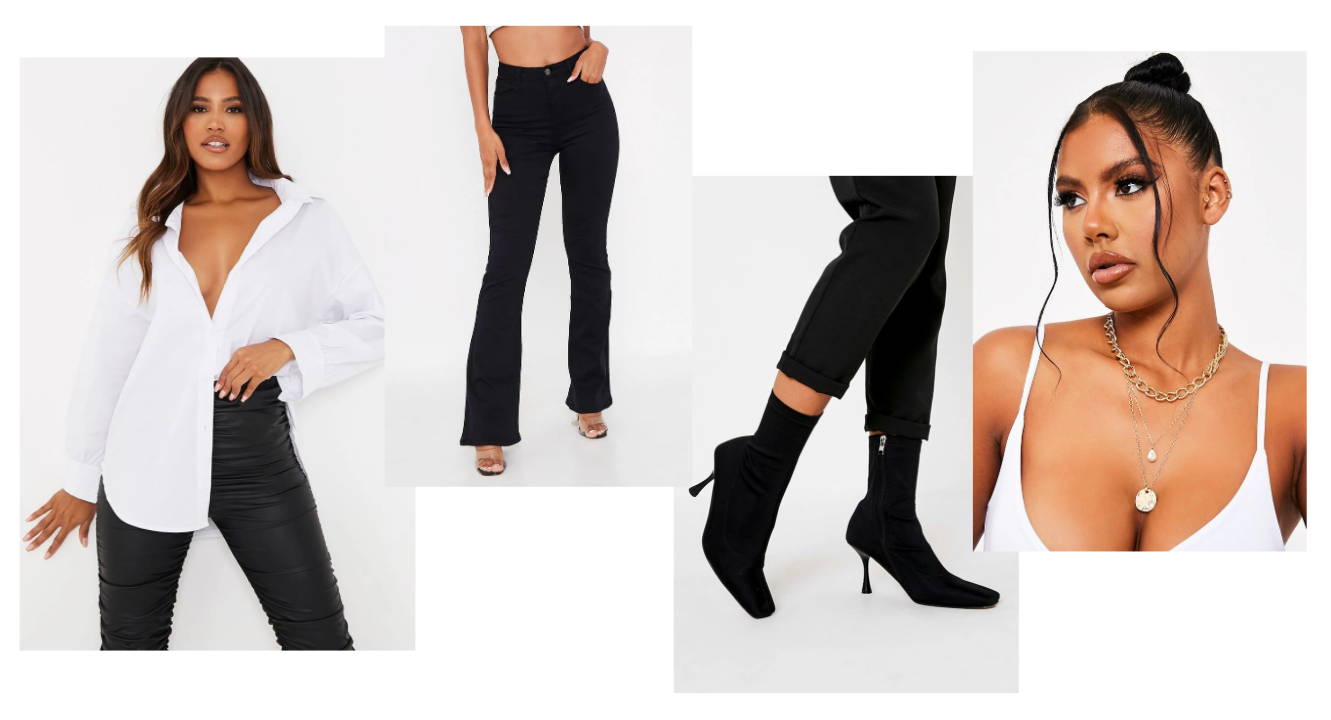 A floral dress screams day drinks! One iconic dress can take you through the whole of SS21. So get some in your wardrobe ahead of all the occasions you'll be attending.
If you're wanting to stick to flats for a bit longer before fully going back to clubs, chunky boots are definitely your next best option. They took form again 2 years ago and since then, we've been obsessed! Once you find the right pair, they'll be your new bestie for when you want to dress up (but also want to be able to walk for more than 2 hours!)
A cropped leather jacket will work in the black of the boots without taking any attention away from the gorg colourful dress! Finish the look with some oversized sunglasses.
Shop the look: dress, chunky boots, leather jacket, sunglasses
If you're more of an edgy girl, these jeans are perfect. The chain detail is so different and brings a whole new vibe to your look!
This single strap top is super cute for a day in the sun (if you don't mind the asymmetrical tan line!) Keep it all black with this shoulder bag, just the right size for your essentials.
Keep on the chained theme with this chunky padlock necklace! This look is super sleek and effortless, so keep your hair in a tight bun and do your best makeup!
Shop the look: jeans, racer top, shoulder bag, necklace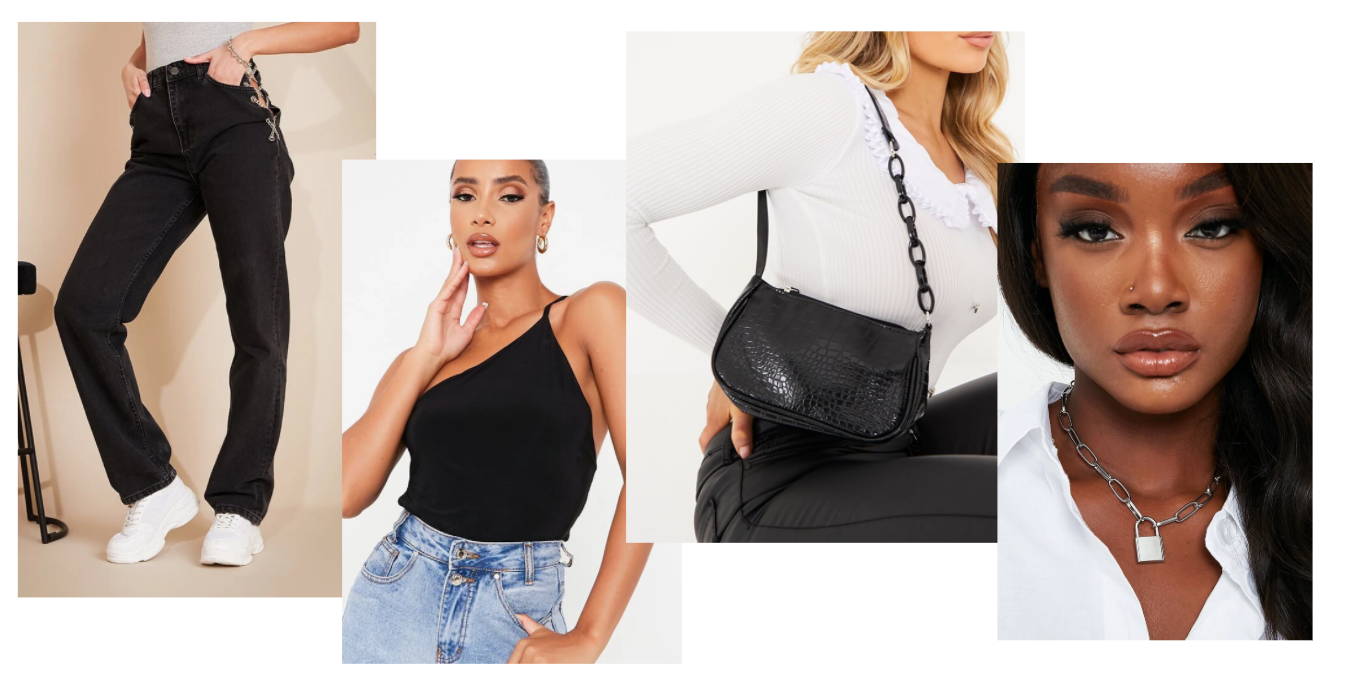 A chic look, which frankly will never go out of style, is a ribbed bodycon dress. Whether you're a midi, maxi or a midaxi girl, get a couple in different colours for those days where you don't have an inspo for an outfit. You can dress it up with boots, or dress down with your fave trainers for a relaxed fit.
Some simple earrings will keep the look girly, so opt for some gold drop earrings or some hoops!
A black bag and black boots will add another colour to your look. If you're not really into colours, tonal colours like khaki or grey are perfect for you if you want to steer away from always wearing black but don't want to feel too out your comfort zone!
These boots are super comfy & perfect for dancing after taking advantage of some happy hours!
Shop the look: bodycon dress, earrings, shoulder bag, heeled boots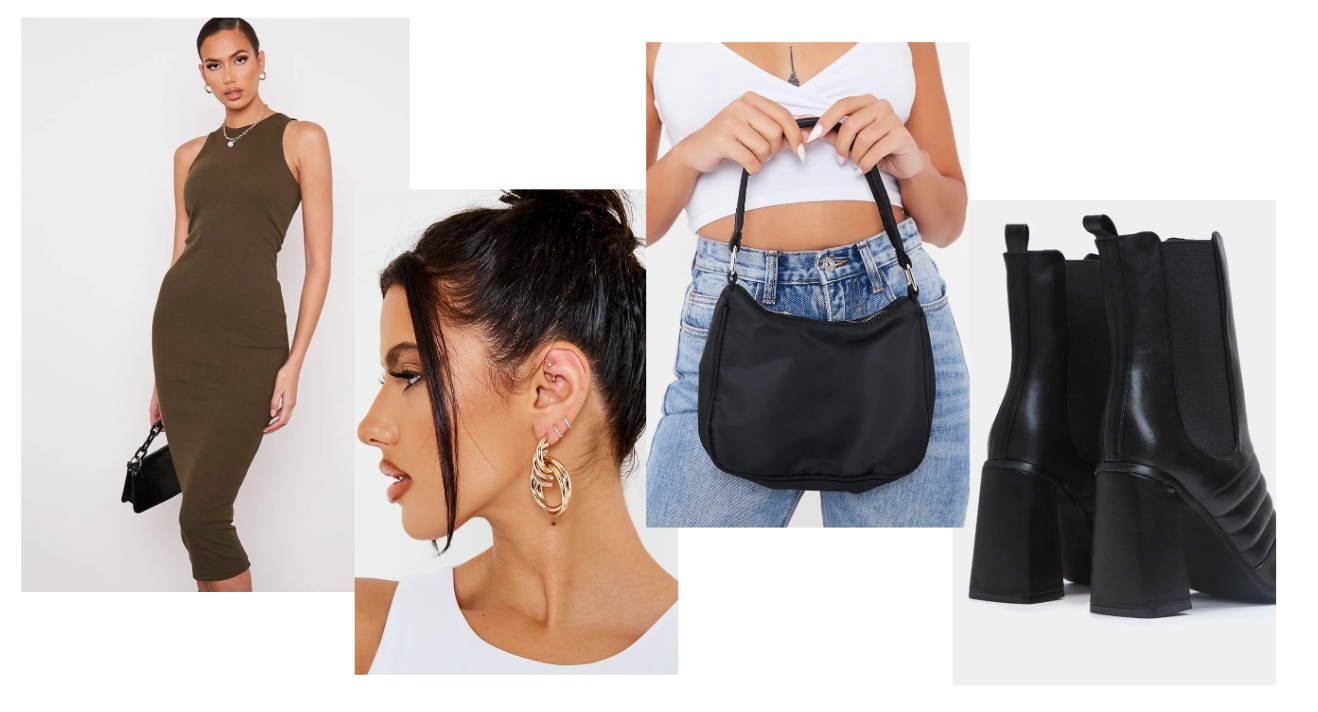 A racer vest bodysuit is an absolute staple no matter what season! We've got so many colours of this double layer style, so make sure you've got a few for some easy go-to looks.
We are LIVING for these split hem blue jeans as they're completely on trend and you'll be able to style up with a puff sleeve top in the club, or a graphic tee for a coffee date. For day drinks, the split hem detail gives your normal jeans an elevated look - perfect for wanting to look your best in a Saturday afternoon of cocktails.
Pair with some cute padded mules. If you want to keep your look on the grungier side, add a check shirt for an extra layer. Keep it off shoulders for a relaxed look, and tie round your waist if you want a different vibe later on!
Shop the look: bodysuit, split hem jeans, mules, check shirt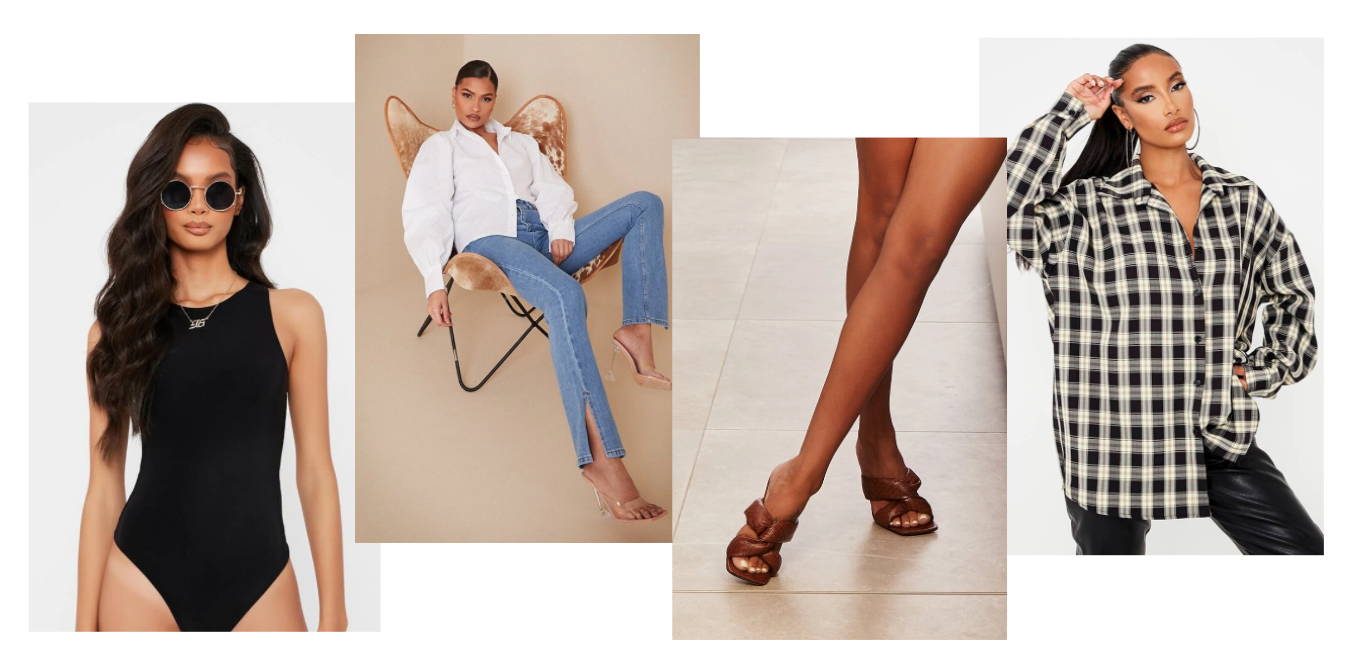 Sometimes just wearing a slogan tee and some leather trousers is the best way to go. If you're worrying it's too casual, there's loads of ways to dress it up!
Add a statement bag that will bring a pop of colour to your look, or maybe some really extra earrings and some rings.
The split hem trousers are bang on trend and we're seriously loving the look of trousers covering heels RN, so finish the look with some black croc heels.
Shop the look: graphic tee, leather leggings, mini bag, croc heels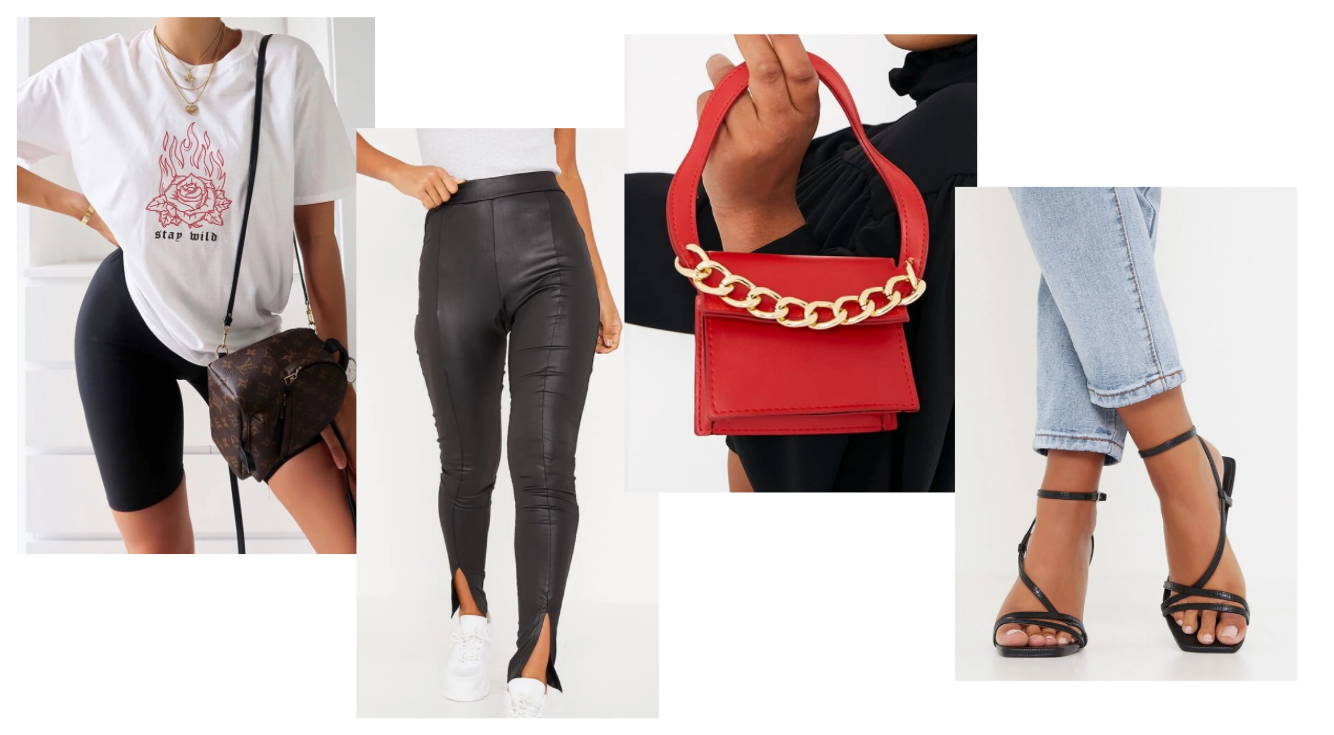 OPTION 7: MUST-HAVE BLAZER

For a more structured look, opt for a blazer. Everyone needs that one blazer that makes them feel super confident and gives them the best shape. We suggest black so it'll go with everything you wear!
Go with some blue skinny jeans and a nude scoop neck vest. These are neutral staples that'll carry you through every season!
Complete it all with some black sock boot heels and you're good to go!
Shop the look: jeans, vest, blazer, heeled boots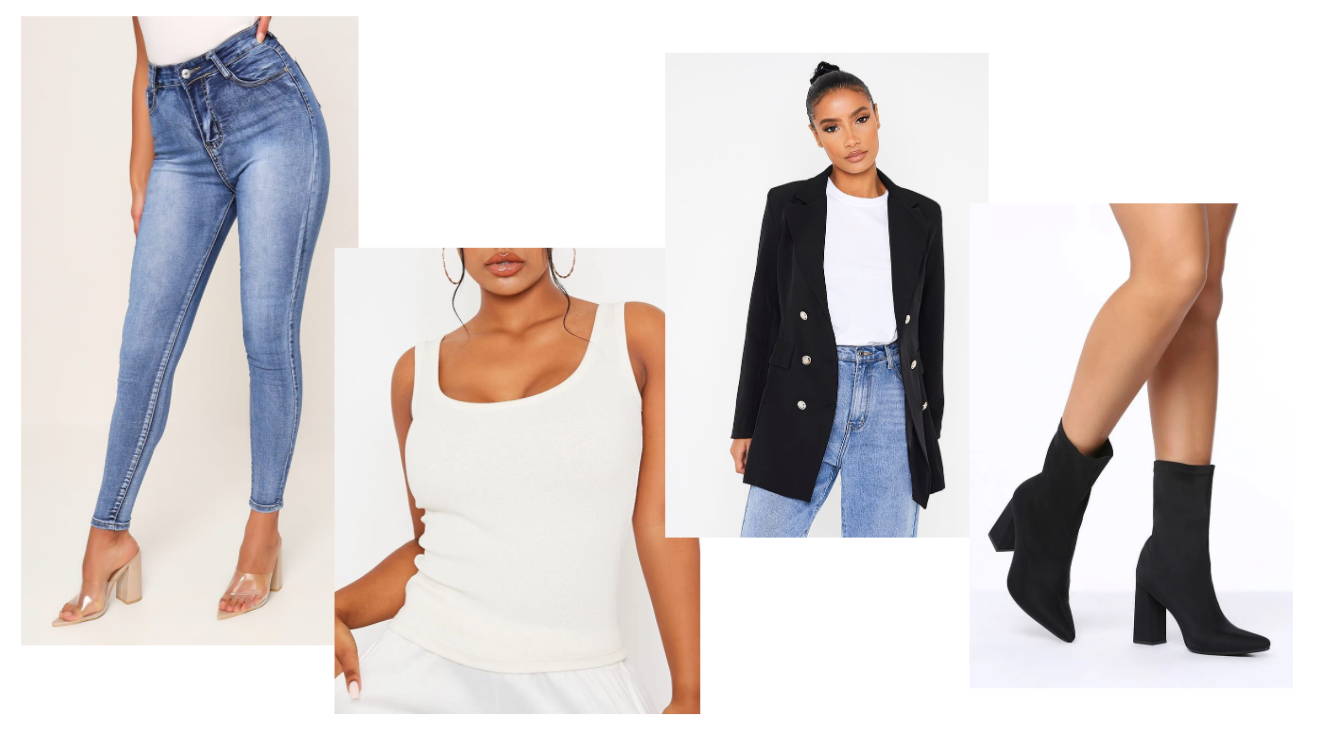 Now your outfit is sorted, all you have to worry about is what your next cocktail order is going to be!
Check out our post-lockdown liberation looks blog if you want to get ahead of the game on outfit ideas, and don't forget to shop our Spring Picks & June 21st Outfits categories for some on-trend inspo!
---
---