CHRISTMAS GIFT GUIDE -
GIFTS FOR THE NEW GIRLFRIEND

Found your forever bae? Then there's no better way to treat her than with the perfect gift to set the relationship off the right way! Found your first ever bae? Well congrats! No doubt you're now panicking because you're looking for Christmas gifts for your girlfriend, and we don't blame you, gals can be picky! Whatever she likes, it's guaranteed you'll find something perfect at ISAWITFIRST, so let's look at some perf Christmas gift ideas for your new special someone.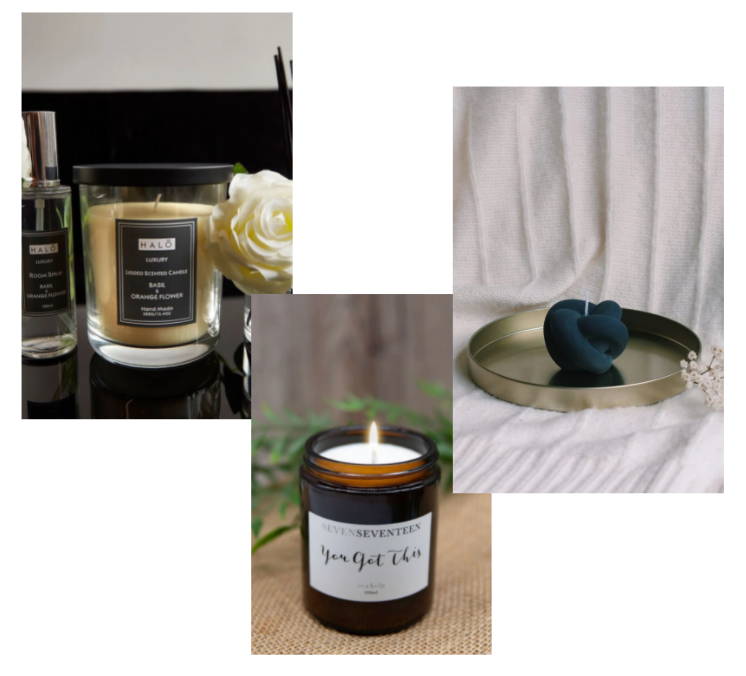 Write this down: Christmas gifts for your girlfriend option 1, candles. You literally cannot go wrong buying candles for your girlfriend. It doesn't matter if you've been dating for 1 week or 1 year, it's a guaranteed win!
Have you ever just lit a candle and felt immediately cosy? Well this is the vibe we're chasing, especially around the A/W months. A candle can bring a room together with a specific scent, plus it'll be a really nice reminder for her every time she sees it! It really is the sentimental value that counts, so you're bound to win with this one.
Luckily, there's literally a million different candle scents. We highly recommend a coconut & vanilla as this is pretty much a universally loved scent. If you're wanting something with a whole some message, why not go for this mood boosting candle? It's sure to give her a smile!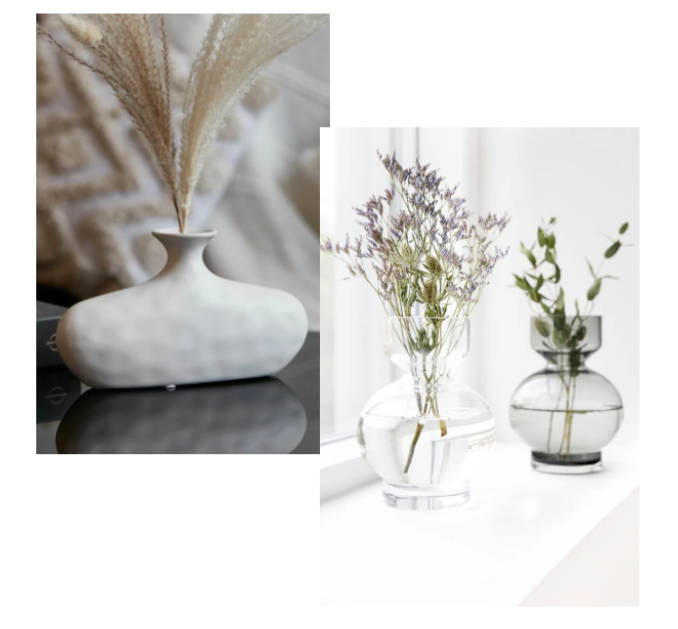 Wanna win partner of the year? Of course you do! This is relationship 101: your girlfriend will ALWAYS want flowers. Whether they're surprise flowers on a Tuesday afternoon or a huge bouquet for an important event, they're equally welcomed & appreciated!
This is a double whammy, because not only is a super chic vase one of many good christmas gifts for your girlfriend, but it also says 'hey babe, you know I'm gonna be buying you flowers'. Cute, right?
To one-up it even more, why not also gift her the vase? That way, you've covered all your bases and it eliminates any worry if you're not sure she has a vase - plus she can plant them straight away.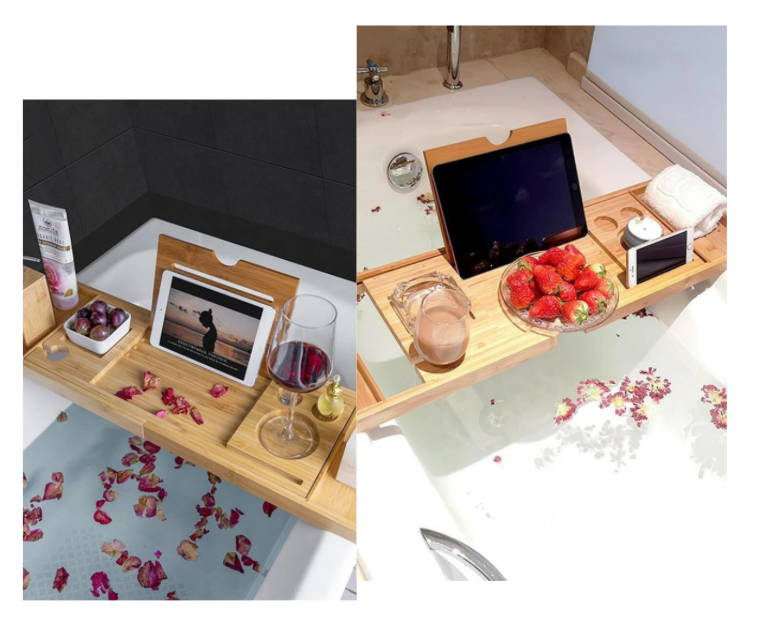 One of the most important things for a girl is her one-to-one self care time. She loves you, but obv she needs her pamper sesh for herself. If she loves her relaxation, a bath tray would be perfect!
With the different compartments, she can bring everything with her for the perfect night in. If you're wanting to make this even better, why not add in some of her favourite snacks & a bottle of her fave drink?!
We can guarantee she'll absolutely love this gift, what we can't guarantee is you'll see her ever again - she won't wanna leave the bath!
If your queen is a tan queen, you can't really go wrong with your own little tan bundle.
Not only have you got her the classic self tanning foam, but you've thrown in a tan t-shirt (very important for the tanning routine) AND the liquid gold self tanning oil, perfect for nights out and when she wants to go a little extra!
This gift will let her know you're thinking of her a lot, understanding what she does and helping her out with it!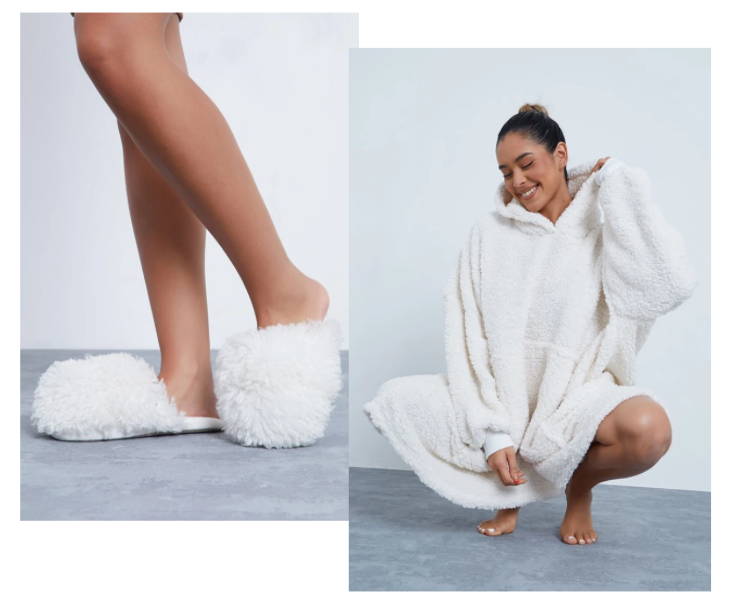 Our top priority for A/W = being as cosy & warm as we possibly can. As girls, we love the feeling of a brand new fluffy item that we can wear any time we're chilling at home.
Why not gift your girlfriend this ultra comfy oversized hoodie? It's a guarantee she'll wear it 'til she can't anymore! It's perfect for a movie night together and acts as a blanket!
This might be a lil cheesy, but the best Christmas gift ideas for your girlfriend also involve you too. Why not get yourself a similar set for those corresponding couples Christmas cuddles? Just check out our men's loungewear and see if you find the perfect match for your perfect match!
To pair, we'd highly recommend these dome fluffy white slippers. Need we explain? They're perfect for walking round the house and keeping her toes warm when it's starting to get a little chilly outside! She'll be thanking you for these, trust us!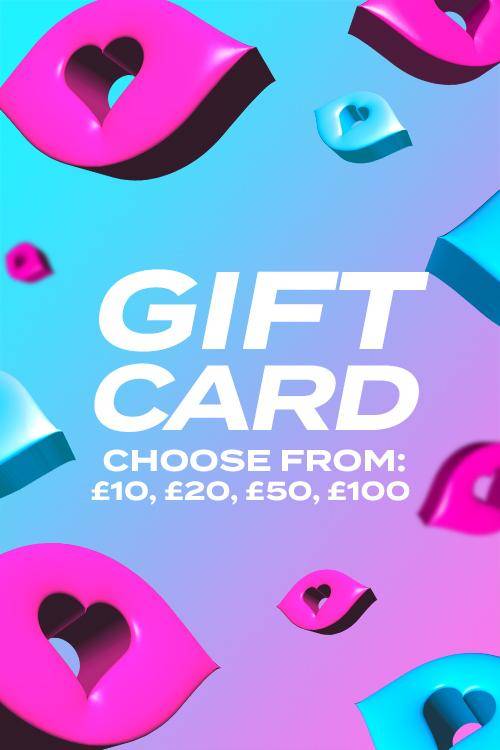 Gift cards really are the gift that keeps on giving. If she's into her fashion but you're not sure on her size or what she'll like, an ISAWITFIRST gift card is the perfect option! She doesn't have to spend it all at once either, so it'll last a while for her to treat herself when she wants!
You can choose anywhere from £10 - £100 spend for her to splash out on a wardrobe on you! This is also the perfect gift if you're not so good with the early Christmas prep - this is the best last minute gift with all the value.
The best thing of all is that you don't need to wrap it! Just open the package and you're good to go.
We'll be waiting for our 'thank you' card in the post, because let's face it -
we came through with these fab Christmas gifts for your new girlfriend, and you absolutely nailed your first Christmas together. If you've been shopping for your longtime love, then obv you already know where to source your girly goodies from (hint: its us, ISAWITFIRST).
For more gifting ideas, head to our
Gifting collection
RN!